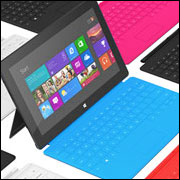 The worldwide tablet market is surging. Shipments increased 142.4 percent year over year in the first quarter of 2013, IDC reported Wednesday, for a total of 49.2 million units. That figure surpasses the total for the entire first half of 2012.
Some interesting trends are evident in the report: Apple and Samsung, the leaders of the pack, outperformed IDC's expectations. Meanwhile, Microsoft has moved into the top five rankings.
The Top 5
Apple shipped 19.5 million units, topping its forecast of 18.7 million units. The company historically experiences a steep drop in first-quarter shipments, but its decision to move the iPad launch to the fourth quarter of 2012 prevented that slump.
Samsung, at No. 2, also performed above expectations, shipping 8.8 million units. Its success was fueled in part by demand for the company's smaller-sized tablets. Samsung is taking advantage of its recent Android smartphone growth to usher its tablet line into new markets, IDC said.
Asus moved into the No. 3 vendor spot, with 2.7 million shipments of Google's highly marketed Nexus 7 device.
Amazon shipped 1.8 million Kindle Fires, taking No. 4.
Microsoft entered the top five for the first time, IDC noted, with its combined shipment of close to 900,000 Surface RT and Surface Pro tablets.