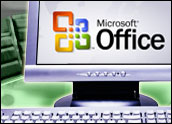 Microsoft is asking the U.S. Court of Appeals for the Federal Circuit for a rehearing of its affirmation in December of a lower court's jury verdict that Microsoft infringed on patents held by a Toronto-based company, i4i.
While awaiting the court's decision, though, Microsoft has scrambled to comply with an injunction that went into effect Monday, requiring that it remove the infringing code from the relevant versions of Microsoft Word now on store shelves. Existing copies already sold to consumers or businesses would not be affected, Microsoft said in December.
However, Microsoft has posted an update to Microsoft Office Word 2003 on its download site that affects a particular custom XML tagging implementation.
"You must install this update if you have been instructed to do so in a separate communication from Microsoft," the instructions read.
Microsoft did not return a call from the E-Commerce Times in time for publication.
From There to Here
Microsoft has been prepping for this day since the injunction was first issued in August 2009, it said in a statement, and was able to quickly put the wheels in motion to remove what it called a "little-used feature."
The injunction applied to versions of Microsoft Word — specifically, Microsoft Word 2007 and Microsoft Office 2007 suite — that open documents using the custom XML technology. Beta versions of Microsoft Word 2010 and Microsoft Office 2010 are not impacted. The court also ordered Microsoft to pay US$240 million in damages.
Microsoft's saga began in 2007 when i4i sued it, alleging that Microsoft Word unlawfully infringed on its patents based on XML, DOCX and DOCM file formats.
In August 2009, a jury found the software giant had indeed violated i4i's patents. Judge Leonard Davis of the U.S. District Court for Eastern Texas subsequently issued an injunction against the sale of Microsoft Word.
In September, the U.S. Court of Appeals for the Federal Circuit temporarily stayed the injunction against the sale of Word that had been set to take effect the following month. Microsoft argued that there would be significant market upheaval if the injunction were to go into effect on October 10, 2009, as originally mandated. OEMs, including HP, filed friend of court briefs bolstering that argument.
That maneuver bought Microsoft and its partner ecosystem a little time — albeit not as much as they had hoped. HP had requested in its brief that Microsoft be granted another 120 days after the court's decision to comply with the injunction in the event it was affirmed.
Dwindling Options
Microsoft's request for a rehearing before the full panel of judges — also known as an "en banc hearing" — is one of the few remaining options available to the company at this point, Doug Goldhush, a partner in Squire, Sanders & Dempsey, told the E-Commerce Times.
"Right now, Microsoft can either comply with the injunction, request an en banc hearing, or take it to the Supreme Court," Goldhush said. Leaving the injunction unchallenged — even if it were to comply as required — would mean it would still be on the hook for the damages.
Handicapping Microsoft's chances before a full panel of judges — assuming the rehearing is granted — is impossible to say, added Goldhush. "Usually, rehearings are granted in situations where there is a big legal issue, such as a precedent being established."
A hearing before the Supreme Court is equally uncertain and would require a lot of work, he observed.
Microsoft has indicated that it will take the case to the highest court if need be, according to a statement by spokesperson Kevin Kutz, who said Microsoft was considering a request for a writ of certiorari from the U.S. Supreme Court.
The 'Obviousness' Defense
Microsoft's only hope for reversal now appears to lie with the argument of "obviousness" — a legal concept that states an invention based on "obvious" processes or steps should not be patented, Goldhush said.
Microsoft didn't file a pre-verdict motion for judgment as a matter of law (JMOL), he noted. It needed to do that if it wanted to preserve its right to challenge the factual findings of the case. "Usually it is done when facts are presented to the court that are so clear that there is no need for a jury and the judge is requested to decide the case as a point of law."
Because Microsoft has waived its opportunity to appeal on that basis, "it is now stuck with obviousness as an argument," concluded Goldhush.
Hindsight Is 20/20
Neglecting to file a JMOL does appear in hindsight to have been a mistake. "The judge in this case said that without the JMOL it could only look at the facts in a particular way, Janet B. Linn, an attorney with Eckert Seamans Cherin & Mellott, told the E-Commerce Times.
Whether Microsoft gets its en banc, she speculated, would depend in part on how the federal circuit views the imposition of damages against Microsoft.