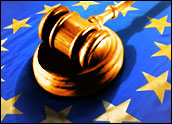 The European Commission is concluding its latest antitrust case against Microsoft by accepting the company's promise to offer Windows users a choice of Web browsers, Competition Commissioner Neelie Kroes announced on Wednesday.
Specifically, in March Microsoft will issue an update that enables the more than 100 million European users of Windows XP, Vista and Windows 7 to choose among a variety of browsers available for installation in addition to — or instead of — its Internet Explorer.
The agreement also stipulates that computer manufacturers will be able to install competing Web browsers, set those as default and turn Internet Explorer off.
"Millions of European consumers will benefit from this decision by having a free choice about which Web browser they use," Kroes said. "Such choice will not only serve to improve people's experience of the Internet now but also act as an incentive for Web browser companies to innovate and offer people better browsers in the future."
'An Effective and Unbiased Choice'
In January of this year, the Commission sent Microsoft a Statement of Objections charging the software giant with abusing its dominant position in the PC operating system market by tying Internet Explorer to Windows.
Such bundling gave Microsoft an artificial distribution advantage not related to the merits of its product, the EC felt, on more than 90 percent of personal computers. The result also put a damper on innovation, it argued, and created artificial incentives for software developers and content providers to design their products or Web sites primarily for Internet Explorer.
With the new agreement, however, "PC users … will have an effective and unbiased choice between Internet Explorer and competing Web browsers," the Commission said. "This should ensure competition on the merits and allow consumers to benefit from technical developments and innovation both on the Web browser market and on related markets, such as Web-based applications."
Potential Fines
Microsoft has agreed to provide the choice capabilities for five years.
It will report regularly to the Commission and make adjustments to its implementation of the agreement as necessary. The Commission will likely review the commitments in two years.
Meanwhile, if Microsoft fails to uphold its end of the bargain, the Commission could impose a fine of up to 10 percent of Microsoft's total annual turnover without having to prove any violation of EU antitrust rules.
Treading Carefully
"American tech companies have to tiptoe around the European Union regulations, even though their activities easily clear in the U.S.," Raymond Van Dyke, a partner with Merchant & Gould, told the E-Commerce Times.
Oracle is also currently making overtures to overcome European rules, "which assume that any dominant company is per se anticompetitive," Van Dyke noted. "In the U.S., you must show market damage."
Looking ahead, "the EU and Neelie Kroes will continue to make U.S. high-tech companies jump over competition high bars," he predicted.
'Greater Respect for Individual Decisions'
Among the 12 browser choices to be offered to European Windows users will be Mozilla Firefox, Google Chrome, Apple Safari and Opera.
"Mozilla is most pleased with the core principles Microsoft will be adopting that protect the choices a person has already made," wrote Mitchell Baker, chair of the Mozilla Foundation, in a blog post Wednesday. "These principles are expressed in several components of the commitments and together should result in a greater respect for individual human decisions."
Not everyone feels antitrust regulation ultimately benefits the market, however.
'You've Always Got a Choice'
"Microsoft never had any power to prevent choice at all," Wayne Crews, vice president for policy and director of technology studies with the Competitive Enterprise Institute, told the E-Commerce Times. "The whole thing was based on the pretense that Microsoft could stop competition and consumer choice."
In reality, however, "you've always got a choice," Crews asserted.
Companies can be regulated either politically, such as in this case, or competitively –which is much more intense, he explained.
'Rampant With Choice'
When discipline is provided competitively, a company like Microsoft "has upstream suppliers, downstream partners, Wall Street, the global investment community, advertisers, consumers and new technologies arrayed entirely against it when it misbehaves," said Crews.
"In that kind of climate, Microsoft never had the ability to prevent anyone from choosing a browser any more than it does to prevent you from choosing any other software," he pointed out.
The Internet "is rampant with choice," he added, so "I don't think these authorities had any kind of proconsumer role to play."
Rather, "it's competitors who are always bringing these suits," he said, and later, they inevitably "find out they're in the crosshairs too."
2004 Precedent
Indeed, it was a complaint from Opera that spurred the Commission to pursue the antitrust case in the first place, Matt Rosoff, an analyst with Directions on Microsoft, told the E-Commerce Times.
The precedent for the case was a ruling by the EC in 2004 that ordered Microsoft to ship a version of Windows without Windows Media Player, Rosoff explained.
"The browser case was built largely on that, and I think that's why Microsoft was willing to reach a settlement so quickly," he pointed out.
Lesson Learned?
The resolution of this case doesn't end Microsoft's antitrust issues overall, Rosoff added — "those will always be with the company, and it will always have to be careful."
Nevertheless, Microsoft has already begun showing more caution in its software-bundling practices, he said. Windows Mail and Photo Gallery, for instance, are both absent from Windows 7.
Similarly, when the company launched its Microsoft Security Essentials software, it didn't bundle it with Windows "because they know it could land them in antitrust trouble," Rosoff noted.
'They Asked for It'
Ultimately, antitrust should be a resource only for consumers, Crews opined, suggesting "a great reform would be to deny [competitors] standing."
In the meantime, the latest ruling sets a new precedent that could lead to interference with other firms' consumer offerings, he warned.
Other companies are "making themselves more vulnerable to political predation by their endorsement of this action against Microsoft," maintained Crews. In other words, "by going along with this kind of suit, they asked for it."