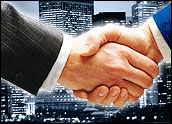 Microsoft and Yahoo have inked an Internet search advertising agreement, finally entering a partnership that seemed to die more than one death over the past two years.
In broad terms, the deal gives Microsoft access to Yahoo's content and advertisers, with its AdCenter platform serving as the interface. Yahoo will be the front-end face of the partnership, focusing on building sales with advertisers.
The 10-year deal will have to clear a high hurdle, as it is certain to come under rigorous scrutiny by regulators. The two companies are hopeful it will close by early 2010.
Neither Microsoft nor Yahoo responded to the E-Commerce Times' requests for comments in time for publication.
Some of the terms of the deal are surprising; for one thing, Microsoft will not be making a cash payout to Yahoo. There was rampant speculation that a possible deal would be worth US$1 billion or more — indeed, in 2008 Microsoft attempted to acquire Yahoo for a whopping $44.6 billion.
Instead, Microsoft will be paying traffic acquisition costs to Yahoo at a rate of 88 percent of search revenue generated from Yahoo's sites for the first five years of the 10-year agreement.
Yahoo estimates the agreement will increase its annual operating income by $500 million and boost annual operating cash flow by about $275 million.
Each company will maintain its own separate display advertising business.
Taking Aim at Google
With the details now finalized, the partnership will allow the duo to concentrate on Google, the formidable dominator of the search industry.
Yahoo, for all its enhancements to its search product, has yet to come within striking distance of Google. Microsoft has fared even worse, despite out-of-the-gate buzz generated by its new search engine, Bing.
However, overtaking Google is a long-term goal, and regardless of its immediate effect on the playing field, the deal appears to be a win for both companies.
Who Wins?
"This is how I see it right now," N. Venkat Venkatraman, a business professor at Boston University, told the E-Commerce Times.
"Microsoft wins because it is not buying Yahoo and is getting a prominent site to use Bing. Yahoo wins in the sense that it can rationalize its resources to focus on display ads and see how far it can compete against Google in this area where it has kept its separate identity."
Yahoo also wins because of a revenue-sharing agreement that on its face, seems to favor it, he added.
There are efficiencies to the deal, but taking on Google is another matter entirely, Eric Karson, associate professor of marketing at the Villanova School of Business, told the E-Commerce Times.
"The big question is, how do you slow a moving freight train? By partnering, at best, Bing and Yahoo can try and stay relevant as a weak second — maybe a 30 percent share of searches from home, versus the 70 percent for Google."
Also, he added, consider this: There will be a certain percentage of Bing users or Yahoo users that will not like the new-to-them format, and go to Google. Yahoo and Microsoft "still haven't given Google users any real reason to switch, so any success is likely to be limited."
Advertisers Ponder
As Microsoft and Yahoo have been circling each other for a year or more attempting to forge an agreement, advertisers have had plenty of time to consider the ramifications of a tie-up between the two. From their perspective, the deal could mean anything from better choices and greater efficiencies to — on the other end of the spectrum — less competition and higher rates. For the most part, though, there is cautious optimism that a Yahoo-Microsoft partnership will benefit advertisers.
"Google has too much control," Daniel Yomtobian, founder and CEO of Advertise.com, told the E-Commerce Times. "This balances out the power. Now, both Google and Yahoo/Bing will have to work harder to compete for user market share and advertisers, which will ultimately raise revenue for the search engines."
There has been a tremendous level of interest in the deal.
"Most advertisers see it to be in their interests to have a two-horse race," Mike James, CEO of FanSnap, told the E-Commerce Times. For them, there is an additional investment and administrative cost working with multiple search engines, and so the ability to work with both Microsoft and Yahoo at the same time is important."
It will also lead to access to a larger pool of prospects for advertisers, he added.
The deal will expand search engine advertising, said Michael McVeigh, vice president of search engine marketing at Zeta Interactive.
"There are many marketers who have not bothered to venture past Google AdWords, and they will be attracted by the acquisition opportunity in the combined Yahoo/MSN search marketplace," he told the E-Commerce Times.
The industry has always suspected that there are valuable incremental customers to be won via sponsored search with Yahoo and Microsoft, but marketers could not justify the allocation of time and resources to manage two additional channels, he said. "This consolidation this will change that."
Google could also use the competition, J. Brooke Aker, CEO of Expert System USA, told the E-Commerce Times.
"Bing surprised many with its new features, clean interface and the way they made use of some semantic processing without having to be a rocket scientist," Aker said, adding that he would love to see Yahoo and Microsoft make a run at Google. "It would force Google to wake up a bit and not feel so comfortable and smug in their market leading position."
Still, there are voices expressing hesitation, including that of Scott Smigler, president of Exclusive Concepts and an authorized Yahoo Small Business Partner.
"As an e-commerce SEO, almost all of our focus has gone to Google because of their dominant market share," he told the E-Commerce Times.
"The partnership between Yahoo Search and Bing is a big deal, because Bing will now have a much broader reach in the search space. Bing will no longer be an afterthought," Smigler said.
The big question for him is whether Bing can deliver search results that are as or more relevant than Yahoo's engine.
"Bing is too new to know the answer to that question for sure," Smigler concluded.