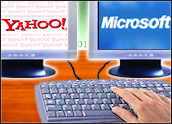 Microsoft and Yahoo have received clearance for their search agreement from both the U.S. Department of Justice and the European Commission, the companies jointly announced Thursday, and they will soon begin implementing their plans.
The process will involve porting Yahoo's algorithmic and paid search platforms to Microsoft and making Yahoo the exclusive relationship sales force for both companies' premium search advertisers across the globe.
Once the transition is complete, the companies' unified search marketplace will benefit consumers, advertisers and Web publishers by delivering innovations, monetization opportunities and a larger pool of search queries, the companies said.
'An Exciting Milestone'
The approval is particularly significant, given the failure of a similar attempt by Yahoo and Google in 2008.
The Microsoft-Yahoo deal has already been cleared by regulators in Australia, Brazil and Canada; the companies are now working with regulators in Korea, Taiwan, and Japan to ensure they have everything they need to evaluate the arrangement before implementing it in those jurisdictions.
Different Audiences
Under terms announced last July, Microsoft will provide Yahoo with the same search result listings that are now available through Bing.
Yahoo, meanwhile, will enhance listings with organized information about key topics, and it will provide new tools for Yahoo users to tailor the search experience.
Microsoft will provide the underlying platform, but both companies will continue to create different ways to compete for search users and clicks, the companies said.
Yahoo's sales team will exclusively represent and support high-volume advertisers, and SEO and SEM agencies, as well as resellers and their clients. Microsoft will represent and support self-service advertisers.
All Done by 2012
In timing the transition, the two companies will work with advertisers, publishers and developers to customize their plans.
Both companies will begin working closely with partners well in advance of their planned transition to the Microsoft platform and will communicate regularly through all the traditional means as well as a newly created 00000Search Alliance Web site.
The goal for completing the transition of algorithmic search in the U.S. is the end of 2010. The companies hope to make significant progress transitioning advertisers and publishers prior to the next holiday season. The transition will be compete globally by early 2012, the companies said.
'This Is a Good Thing'
"We think this is a good thing because there are a lot of things about Microsoft's adCenter that are better and more efficient than Yahoo's Panama system, which it has basically abandoned," Joshua Palau, vice president of search engine marketing with Razorfish, told the E-Commerce Times. "This will give people the opportunity to use a good platform on more than just Bing."
The deal will also "spur on competition," Palau added. Google, for example, hasn't "made any massive, sweeping changes" in reaction, "but it has announced several updates since the deal was announced," including Google Caffeine.
"I personally think Google's Superbowl ad was a clear shot at Microsoft, saying, 'people use us to make decisions and live their life,'" noted Palau.
'It Won't Threaten Google'
Indeed, what kind of effect the deal may have on heavyweight Google is now the topic of much speculation.
"I don't think it has any sort of dramatic short-term impact on Google," Greg Sterling, founding principal with Sterling Market Intelligence, told the E-Commerce Times. "Google has not been adversely affected by Bing's growth, and I think it's pretty stable. This will benefit Microsoft, but it won't threaten Google in any kind of meaningful way."
Of course, "the Microsoft-Yahoo deal has been on track for months, so I expect Google has long had a strategy in mind," agreed Charles King, principal analyst with Pund-IT. "In addition, even together the two partners' portion of the search market represents a fraction of Google's overall share."
The China Question
That said, "one possible downside for Google is the lively growth Bing has enjoyed to date," King told the E-Commerce Times. "If that success continues, it could impact Google over time."
Then, too, there's the issue of what will ultimately happen between Google and China, King pointed out.
"If it were to leave that market and Microsoft/Yahoo stay in, the result could be an enormous opportunity for Bing," he said.
A Potential Budget-Stealer
Ultimately, whether the Microsoft-Yahoo partnership has the potential to beat Google "will always go back to how you define 'beat,'" Palau asserted.
"Will the combined entity have more share than Google in three years? I don't think so," he said. "Google is habit-forming — it is a verb."
Whether the deal could take budget away from Google is a different question.
"I think that could happen," said Palau. "Their 30 percent market share is sizable enough to matter, and the companies have a huge amount of display media. If someone from the combined entity can come and offer 30 percent of the market plus an integrated package with advanced offerings, they have access to an inventory that puts them ahead of the game."
'I Think Google Could Be Scared'
Of course, as King noted, Google certainly realizes all this already. It just hired a new head of display advertising, Palau pointed out, and it's also "building out" its Ad Exchange.
"They understand that integrating search and display is a big deal," but at the same time, Palau concluded, "that's where I think Google could be scared."