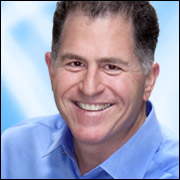 Michael Dell's attempt to take his company private in a US$24.4 billion deal has moved forward another inch or so in what is turning out to be a very long road for the CEO.
Dell notified its shareholders on Friday that the special committee formed in February, after Michael Dell first unveiled his buyout proposal, had concluded that his offer was the best option. The proposal entails Dell and investment firm Silver Lake Partners acquiring the company for $13.65 per share. Microsoft is also participating in the transaction, with a $2 billion loan.
Dell closed Friday at $13.35 per share.
Weighing the Alternatives
Before reaching this conclusion, the committee weighed a number of alternatives — including a leveraged recapitalization — consulting more than 70 strategic and financial buyers in the process.
The offer is scheduled to be put to a special shareholder vote on July 18. For the deal to go through, it must be approved by a majority of shareholders, excluding Dell, who owns a 15.6 percent stake in the company.
Shareholder Resistance
The buyout offer has been met with resistance from some shareholders, notably activist investor Carl Icahn, who owns about 13 percent of Dell along with partner company Southeastern Asset Management. Their argument is that the offer undervalues the company.
Recently Icahn presented an alternative plan in which Dell would remain public and pay investors $12 per share. As part of the deal — technically a leveraged recapitalization — both Icahn and Southeastern would elect to receive additional shares rather than cash, with both parties holding controlling interests in Dell if the deal were approved. Prior to that offer, Dell granted Icahn limited access to its confidential information.
Icahn is not the only investor interested in Dell. Private equity company Blackstone Group also made an offer that has since been withdrawn.
Too Much Dithering
Shareholders need to make a decision one way or another because the uncertainty is not good for Dell, Val Wright of Val Wright Consulting, told the E-Commerce Times.
Earlier this month, Dell reported a 79 percent drop in sales amid fevered speculation that the end of the personal computer era was nigh.
Indeed, one of Dell's purported reasons to take the company private is so he can position it to adapt to current computing trends, Wright said.
"I can see why Icahn is pushing back, even if I don't necessarily agree with it," she remarked. "Going private gives Dell the opportunity to control the company and change its direction."
If Icahn were to respond, though, it would likely be some variation of the argument he offered earlier this month when he proposed the leveraged recapitalization.
Going private, the letter from Icahn and Southeastern said, "leaves all of the upside to Michael Dell and an opportunistic buyout group with only their own interests in mind."