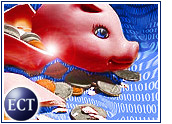 CMGI, Inc. (Nasdaq: CMGI) fell 32/32 to 517/32 Wednesday following reports that executives at the company's annualmeeting failed to reassure shareholders about prospects for the future.
Chairman David Wetherell reportedly told shareholders at the meeting thatdirectors had rejected an offer he made to step down, and that the board wassearching for a chief operating officer to manage day-to-day operations.
The Andover, Massachusetts-based Internet holding company has beenstruggling to consolidate its businesses, selling off many of its variousinterests to concentrate on those that have the greatest potential forsuccess.
CMGI recently reported a loss for the quarter ended October 31st of US$636.6million, or $2.07 per share, compared with a per-share loss of 54 cents inthe year-earlier quarter.
Wetherell said the quarter "marked the beginning of [the company's]aggressive steps to foster growth and achieve market leadership andprofitability across all business segments." The company has enough cash tokeep operations going for at least 30 months, reports quoted Wetherell assaying.
CMGI has been trying to get its many operating companies into order, reorganizing itsbusinesses into six operating segments as it aims to reduce the numberof its majority-owned operating companies to 5 to 10 by the end of thefiscal year.
The company last month announced plans to get out of the entertainment-portal business by disposing of its iCASTsubsidiary, and to exit the free Internet access business by getting rid ofits 1stUp.com division.
Meanwhile, CMGI shares have plummeted. Last January, the stock traded ashigh as 163 1/2.