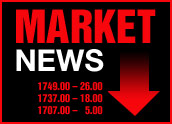 Major U.S. stock markets posted losses for the third straight session today amid inflation worries and concerns that a move by Delta Airlines to cut fares could lead to an airline price war that would further damage that troubled industry.
Stocks were initially higher after the Institute of Supply Management reported that its services sector index rose in November, surprising forecasters who had predicted a decline in the measure of non-manufacturing activity.
Market Correction?
However, by the close, all the major averages were again in the red. The Dow finished at 10,597.83, a decline of 32.95 points, or 0.31 percent. The Nasdaq, which shed 2 percent yesterday, was down another 16.62 points, or 0.79 percent, to 2,091.24, and the S&P 500 finished at 1,183.74, off 4.31 points, or 0.36 percent.
Some observers speculated that investors were leading a market correction to account for sizeable gains made at the end of 2004, when stocks reached highs not seen since early in 2001. By waiting to sell stocks, investors now have another calendar year to offset profits before being taxed on what they've made.
However, news that Delta would slash fares by as much as 50 percent in a bid to attract fliers, also had an impact, with its stock dropping 7 percent on the day. Other airlines felt the impact, even though several publicly chastised the move.
Retailers on Deck
Investors were also starting to get a better look at the results of the holiday shopping season, with the early results mixed. Circuit City lost more than 8 percent on the session after saying its sales dropped 5.8 percent in December. Countering was word from Nordstrom that sales were up more than 9 percent. A slew of retailers is due out with December same-store sales reports by week's end.
Oil prices continued to see-saw, losing ground again after sharp gains yesterday. Futures traded lower by 52 cents per barrel to $43.39 in New York Mercantile Exchange activity after U.S. energy officials reported stockpiles of oil remain relatively strong.
The dollar traded slightly lower, but managed to hold most of the gains it made so far this week. The currency is still trading near a three-week high against the euro.