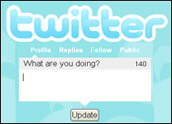 Noting that more and more businesses are using Twitter to communicate with customers, the San Francisco social networking startup has launched a new sub-site to help companies learn strategies to leverage the service to their benefit.
Twitter101 provides a quick overview explaining what Twitter is, a guide to the service's sometimes impenetrable lingo, a section on best practices and case studies.
"We're focused on enhancing value across Twitter in general — these documents are just a first step," Twitter cofounder Biz Stone said in a posting to the company's official blog on Thursday. The company did not respond to the E-Commerce Times' request for comment on Friday.
The Elusive Business Model
The move is widely believed to be the next step in Twitter's evolution from a fast-growing media darling to sustainable business.
What that evolved service will look like still remains largely the province of hints and rumors.
In widely reported remarks at the Fortune Brainstorm Tech 2009 conference this week, Stone suggested that commercial accounts might be in the offing.
In a May post to the Twitter blog, Stone said verified accounts, management tools and "discovery mechanisms" were among the ideas the company was considering implementing to develop a revenue stream.
The company expected to launch efforts to develop a revenue stream this year, he wrote.
Will Businesses Want It?
Whether businesses will want to pay or will remain content with the interaction they currently have is another question entirely, Zeus Kerravala, senior vice president for global enterprise and consumer research for the Yankee Group, told the E-Commerce Times.
There's little doubt some social networking sites will emerge from the crowd and provide such value that companies are willing to pay, Kerravala said, but it's way too early to tell if Twitter will be the one.
"It's very much like the Internet once was — an experimental thing that companies were just playing around with," he said. "It took a long time before anybody monetized anything off the Internet."
Checkered Track Record
Second Life is one example of a fast-rising media star that has failed to produce much, if anything, in the way of return on investment for corporations who spent time and money to buy, develop, promote and use real estate and other infrastructure in that virtual world, Kerravala noted.
"IBM is still one of the largest landowners in Second Life. I'd be surprised if they've gotten any ROI off that," he said.
Success Stories
Twitter's Stone, however, has spoken in interviews about the value many businesses claim they get from Twitter — from engaging with prospective customers to converting prospects to sales.
The Twitter 101 guide itself refers to several success stories, including Dell's use of its Twitter account to hook up customers with outlet store coupons that convert to sales. Another company takes orders via the service.
However, if Kerravala is correct, and that value isn't worth enough to companies to actually pony up cash for the privilege, it might be tough for Twitter to sell corporations on any significant ongoing investment in services from the site, he said.
"The expectation that there's going to be a real big rate of return off it would be foolish," he said.