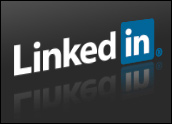 Despite revenue gains that beat expectations for LinkedIn's quarterly earnings report Thursday, investors sent the company's stock falling when the company forecast lower-than-expected guidance.
LinkedIn reported revenue of US$324.7 million for its most recent quarter, a 72 percent jump from the 188.5 million it brought in a year earlier. Net income also rose to $22.6 million from the $5 million from a year ago. Analysts had expected the company to earn closer to 31 cents per share on $317 million in revenue.
The company's guidance was not as positive. LinkedIn said it expected Q2 revenue between $342 million and $347 million, lower than the $359 million Wall Street had predicted.
Investors weren't impressed with that outlook, sending LinkedIn's stock plunging more than 10 percent in after-hours trading. The stock hit about $181 per share, reversing some of the 73 percent gain it has seen since the start of the year and the $202 high it hit Thursday afternoon. It continued to hover around $181 going into Friday afternoon.
LinkedIn did not respond to our request for further details.
Not Out to Please Wall Street
User engagement had increased during the past three months, leading LinkedIn executives to say they were pleased with the earnings. That result came after the site launched several new features such as enhanced search and a Web application designed to make it easier for users to find, connect and stay in touch with fellow LinkedIn users.
The company has also expanded its mobile strategy. LinkedIn recently purchased Pulse, a newsreader app that could put the networking site in a better position to become a news platform.
That formula is part of the reason that LinkedIn, unlike some of its Internet peers such as Groupon or Zynga, has enjoyed recent success on the stock market — at least before the Q1 earnings report, said Arvind Bhatia, Analyst at Sterne Agee. Even if investors are discouraged that LinkedIn might not have record-setting revenue highs to report in its second quarter earnings, there is no reason to worry about the business model.
"LinkedIn continues to fire on all cylinders and we believe there is significant runway ahead for the company," he told the E-Commerce Times. The company's three top revenue drivers — premium subscriptions, talent solutions and marketing products — all saw solid growth during the first quarter, Bhatia added.
It's also possible that management is being conservative about its next quarter, said Thomas Bibby Varghese, CEO and founder of eBizUniverse.
"LinkedIn has a history of under-promising and over-delivering," he told the E-Commerce Times. "They are focused on long-term growth and not obsessed with pleasing Wall Street. This is good in the longer term, and I am confident LinkedIn is going to continue to deliver strong results in the coming quarters."
More Work to Do
Part of that ability to deliver strong results comes from the company's solid place in the market, said Jim Tobin, president of Ignite Social Media. The company might not be the most innovative in its industry, but it has orchestrated a steady rise to become the Internet's leading professional social network.
"LinkedIn has done a nice job transitioning from a large database of resumes and loose connections into a business-focused social network," he told the E-Commerce Times.
LinkedIn still faces challenges, said Lauren Formalarie, senior social analyst at Say It Social. Developing a mobile platform is essential for any company looking to make money in the tech world, so LinkedIn is going to have to find the balance between monetizing mobile and blending into the social media crowd.
"Using the news to advance and grow mobile views is certainly a necessity to stay afloat nowadays, as long as they don't turn themselves into either a spammy nuisance by constantly pushing news at you from all directions, or a typical social network," she told the E-Commerce Times. "They're going to have to get creative about how to reach people in terms of connecting one another in the mobile world, because that's what they do best. It's certainly a challenge, but fitting the mold of every other social platform is not the way to do it."