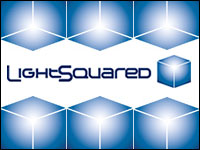 Facing a deadline from its partner Sprint, LightSquared filed a motion Tuesday asking FCC officials to confirm the company's right to use the airwaves, despite data that suggest its operations could interfere with global-positioning systems.
Any interference with GPS devices is a flaw within GPS technology, not LightSquared technology, the company claimed, thus the FCC should not protect GPS by holding LightSquared back. The company has already invested heavily in fixes, it said, and it shouldn't continue shouldering the obligation of funding potential solutions.
LightSquared has already invested billions, mostly backed by Philip Falcone's Harbinger Capital, in its effort to create an open 4G wireless broadband network across the U.S. The company would sell the spectrum wholesale. LightSquared says it has enough cash to operate through the FCC ruling, but after that would need US$3.5 billion to continue over the next two years.
It's also under deadline pressure from one of its major partners. To help with that funding, LightSquared partnered with Sprint in a 15-year agreement. The deal, which would allow LightSquared to sell Sprint's LTE network and roam on its 3G network, would apparently save LightSquared $13 billion over the next 15 years. Sprint, in turn, would be able to use LightSquared's capacity when needed.
However, Sprint told LightSquared it had until the end of the year to receive FCC approval to operate on the proposed networks that are supposedly interfering with global-positioning systems. Facing the deadline, LightSquared asked the FCC to reconsider its position and stop blocking the company's commercial launch, which has been slated for 2012.
GPS Left in the Dust?
Throughout the federal testing and approval process, LightSquared has maintained its commitment to making sure LightSquared doesn't run before the issue is resolved.
"LightSquared has spent more than $160 million to find solutions that allow both technologies to coexist, and we have compromised repeatedly by developing several mitigation proposals, including agreeing to modify our deployment by starting in the lower 10 MHz of our spectrum and lowering our power levels ," a LightSquared spokesperson said in a comment provided to the E-Commerce Times by Penny Kozakos, media relations for LightSquared.
The interference is not as significant as the FCC and other opponents have made it seem, the company maintained.
"The interference at 1dB, which was noted in the latest government test results, does not affect the user experience. That's a theoretical model that does not represent real-world experience. It's the equivalent of one additional person clapping in an auditorium full of applauding people," said the spokesperson .
The FCC has not responded to the letter, but it's unknown how it will respond.
"While we desperately need solutions to the new and rapidly growing wireless data spectrum shortage problem, and while the LightSquared idea sounds good, they simply cannot be allowed to devastate another existing industry like GPS," Jeff Kagan, independent tech analyst and consultant told the E-Commerce Times.
Since the GPS industry is already established and widely used, especially in the agricultural examples the FCC emphasized in its initial testing, GPS has an advantage of being already in the market and forcing other companies to adjust to it, Kagan pointed out.
"Even if LightSquared is correct, and the problem is with the GPS side, it is still up to LightSquared at this point to make whatever adjustments are necessary because the GPS industry is already growing and LightSquared is not yet," said Kagan.
Must Have Power
LightSquared declined to elaborate on what will happen if the GPS matter or relations with the FCC can't be resolved.
"It's premature to speculate. LightSquared is focused on fulfilling the commitment we made to build out the nation's first wholesale-only 4G-LTE network which will bring world-class wireless broadband connectivity to 260 million Americans by 2015. We plan to accomplish this through a $14 billion private equity investment in our nation's broadband infrastructure," said the spokesperson.
Whatever the solution, the rise of smartphone use, tablets and other devices has networks concerned about their ability to grow wireless broadband capacity alongside consumer demand.
"Wireless data is growing like crazy. This raises a sudden and urgent problem. In fact, we expect wireless data to account for 97 percent of network usage in the next three years. That means only 3 percent will be voice and 97 percent will be wireless data. That sudden growth just started during the last few years since the iPhone and Android have hit the streets," said Kagan.