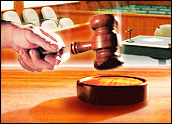 A federal judge in Boston is set to hear arguments this week in a case that accuses Facebook founder Mark Zuckerberg of stealing the code on which he built his massively popular Web site. The lawsuit could at least damage the young Web 2.0 entrepreneur's reputation, and at worst result in a Facebook shutdown.
Cameron Winklevoss, his brother Tyler and Divya Narendra filed the complaint against Zuckerberg, whom they asked to help them build a college social networking site when they were attending Harvard University.
The plaintiffs allege Zuckerberg undermined their effort and surreptitiously stole the source code, design and business plan. He went on to create Thefacebook — as Facebook was initially called — while the Winklevoss/Narendra project, called "ConnectU," floundered.
Facing Off Over Facebook
A judge at the upcoming hearing will hear the plaintiffs argue for a shutdown of Facebook and a transfer to them of Zuckerberg's assets. They also want extra money to be paid as damages.
The lawsuit alleges copyright infringement, the stealing of trade secrets, breach of contract and fraud.
The Winklevoss brothers and Narenda first sued in September 2004, but the complaint was dismissed due to a technical error. The allegations in the re-filed complaint remain substantially the same — that Zuckerberg was an unpaid but full member of their site development team and stole the idea. The suit alleges business torts and unfair business practices.
Facebook has filed a countersuit alleging defamation.
He Never Looked Back
ConnectU did eventually get launched in May 2004, but it remains tiny compared to the wildly popular Facebook, which now has tens of millions of users.
Zuckerberg stands to be a twentysomething billionaire if he sells the site — and he's had a number of offers, including a widely reported US$1 billion offer from Yahoo.
Some analysts believe the pending lawsuit will make it difficult for Zuckerberg to sell Facebook. Greg Sterling, a non-practicing lawyer who, as principal of Sterling Market Intelligence, is now a tech industry analyst, isn't one of them.
"I could pull out examples of litigants that have been acquired," Sterling told the E-Commerce Times. "The conventional wisdom is this creates some sort of cloud over the company. But I think Facebook is such a potentially desirable acquisition the lawsuit is not going to deter suitors. If anything, it might have a marginal impact on the final price but I don't think it's going to make somebody walk away."
Business as Usual
The lawsuit certainly didn't stop the creators of Mozilla's Firefox browser from agreeing recently to have their new company, Parakey, acquired by Zuckerberg. Sterling also noted a storm of copyright allegations against YouTube didn't deter its acquisition by Google.
Additionally, Sterling doubts a judge will shut down Facebook, even if the complaint is found to have merit.
"It's just not going to happen," he said. "There are a lot of situations where the law will not pursue a really Draconian remedy. It will try to provide a monetary remedy and there really is no reason why … the site should have to be shut down."
While Zuckerberg is not exactly shrugging off the lawsuit, he isn't overly concerned about losing the case because "there is really good documentation of this: our code base versus theirs," he said in a New Yorker article that was entered into evidence in the case.
Facebook spokesperson Meredith Chin declined to comment on the case.