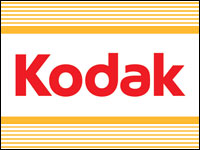 Kodak, the 131-year-old photographic equipment company that has seen its stock value tumble with the advent of digital imagery, is selling off its patents to avoid a Chapter 11 filing, according to The Wall Street Journal.
The company, once the unequivocal leader for photographic film, helped invent the digital camera in 1975 but was unable to capitalize on the technology, unlike companies such as Canon and Nikon. Foreign competitors and the rise of cellphones with built-in cameras and sharing capabilities also hurt the company.
Kodak made efforts to compensate with a printing business, bringing in former HP printing head Antonio Perez to head the company, but it was unable to pull off a turnaround.
Kodak reportedly needs about US$1 billion to stay afloat for another six months or face the bankruptcy process, which could begin as early as this month or in February.
The company is looking into selling about 1,100 digital-imaging patents to raise that cash. Those patents could potentially earn as much as $2 billion to $3 billion, but many have been for sale since August without any takers.
Serious Devaluation
Faced with foreign competition and the digital photography revolution that Kodak was unable to capitalize on, the company's stock has lost about 95 percent of its value since 2007. On Wednesday, the stock hit an all-time low of 47 cents per share. Its previous low point was 54 cents in September, when bankruptcy rumors first started to circulate on a report that Kodak had hired a legal team of Chapter 11 and restructuring advisors. Just before that, Kodak took on $160 million in credit.
The New York Stock Exchange warned Kodak it would be removed from its listings if the price stayed below $1 for another six months.
Kodak did not respond to our requests for further comment.
Chapter 11 Not Necessarily Goodbye, But Chapter 7 Is
That Kodak is looking into a Chapter 11 filing doesn't necessarily mean the century-old company will dissolve.
"Chapter 11 is not the end of the world at all. It's not uncommon for companies in financial distress to sell off assets to try to raise some money. They could be talking to major lenders and saying, 'We want to restructure' and talking about options such as extending debts or giving stock to lenders," John A.E. Pottow, professor of law and bankruptcy expert at the University of Michigan, told the E-Commerce Times.
With the financial struggles that Kodak has gone through, however, and without a viable business plan or innovative idea to assure investors that with a little time and money the company will be back on its feet, it's possible it could face a future closer to that of Borders. The bookstore recently filed for liquidation Chapter 7, driven down by rivals with sharper e-book strategies like Amazon and Barnes & Noble.
"This could be that the sharks of the market are smelling blood and saying that this is the end of this company. It will be interesting to watch with this bankruptcy. One of the eligibilities for Chapter 11 is to have a plan to show that there's a viable prospect for reorganization. I would not be surprised if in a company like Kodak there are some early aggressive creditors who will reverse this to a liquidation Chapter 7 filing and say they have no prospects," said Pottow.
Though Kodak was considered a top-paying and prestigious place to work in its heyday, its history could end up hurting the company now.
"It's certainly a very old-style company, so logic would say that they probably have very old contracts and health benefits and pensions that are probably largely prohibitive in today's market, those have fallen behind the times, and they're behind in a lot of their products," David B. Shaev, a bankruptcy attorney at Shaev and Fleischman, told the E-Commerce Times.
"People don't have film anymore, and the company is trying to reinvent themselves with printers and other products, so many they just need some time. But the question you want to ask investors is, is this the end of a total sector like Borders, or is this just a company looking for a reinvention? It will be interesting to see," said Pottow.