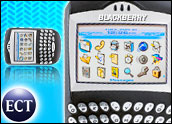 Despite favorable rulings from the U.S. Patent and Trademark Office in its long patent battle with NTP, BlackBerry handheld maker Research In Motion will not be able to wait on further decisions from the Office, as a federal court moves forward on its settlement dispute with NTP.
Embroiled in a legal fight over NTP's patented technology and RIM's alleged treading on it since 2001, the two companies had earlier come to terms, but then disagreed over those terms and wound up in U.S. District Court to face off over the settlement.
Although RIM has benefited from U.S. Patent Office review of the NTP patents in question — resulting in the rejection of five of the eight patents in the case — Judge James Spencer stated that he would rule quickly on the settlement regardless of anticipated action from the Patent Office.
The news sent RIM's shares down, but industry observers observed that it is highly unlikely the company will be barred from providing BlackBerry handhelds and service, and the case will probably live on for some time.
Death Penalty Case
Gartner Vice President of mobile computing Ken Dulaney told the E-Commerce Times that the two-pronged patent battle going on between RIM and NTP was looking more and more like a death penalty case, with its neverending appeals and extensions.
"This is not done; it's going to keep going," he said.
The analyst indicated that Gartner is telling customers to sit and wait on the case and not to worry about their BlackBerry use, because an injunction preventing the service is unlikely.
"If NTP tries to get an injunction, it just means we're going to pay more," Dulaney said, noting that some sort of licensing deal would be more reasonable than the stoppage of the service, which is where NTP could claim damages.
In the case of an injunction, Dulaney added, a judge would probably provide a grace period to allow BlackBerry users to assess their options.
Paying for Delay
Phil Albert, a technology attorney and partner with Townsend and Townsend and Crew LLP, said the recent indication from the court that it would rule on the settlement without impact from the U.S. Patent Office decision was a win for NTP.
"At different times, different parties may prefer the courts to decide, or they may prefer the Patent Office to decide," Albert told the E-Commerce Times. "Even if the Patent Office does strike down all of NTP's patents, the question becomes, what does RIM do between the time delay of when the court rules the patent was infringed and issues an injunction? They're going to have to pay, even if they know the patents will turn out to be invalid."
Injunction Question
However, Albert said NTP would not derive any value from an injunction against RIM.
"They derive their value from the threat of an injunction," he emphasized.
Albert, who also suggested the case could carry on for some time, said it would be safe to assume that, if RIM were found to have infringed on NTP's patents, the Canadian company would find a way to pay its competitor, avoid an injunction and continue its service.
The attorney added that, in addition to patents, the case revolves around the issue of when companies are entitled to injunctions, a topic that may be broached by U.S. legislation soon.