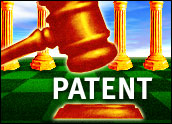 Research in Motion suffered a potentially damaging setback when the U.S. Supreme Court refused to halt lower court proceedings that could result in the BlackBerry maker being barred from selling its hugely popular hand-held e-mail device in the U.S.
NTP, a firm that first accused RIM of patent infringement in 2001, had won an injunction barring sales of the BlackBerry in the U.S. in 2003 as part of a larger jury verdict. An appeals court upheld the bulk of the original ruling, but asked the original court to review parts of the case again to ensure that the jury decision was not tainted.
Once that review takes place, the injunction against sales of the BlackBerry, which was put on hold pending appeals, could be put into effect. Some analysts say such a ruling could even force RIM to shut down the networks that operate existing devices, possibly leaving millions of users without mobile access to their e-mail.
RIM has made it clear it intends to appeal the original ruling to the Supreme Court and wanted a stay on all additional proceedings until the case could be heard. But Chief Justice John Roberts Jr. refused to issue the stay. Roberts did not issue any comment on the decision.
Many analysts believe the decision will force RIM to make a concerted effort to settle the case before the lower court review is completed. Investors apparently share that sentiment, with RIM shares rising nearly 3 percent in morning trading today to US$59.89, on increased prospects of a settlement, after falling sharply in late trading yesterday.
Long Battle
NTP filed suit against RIM in 2001 and was awarded US$23.1 million by a jury a year later. The two companies entered mediation in an attempt to strike a settlement, but talks failed. A court later boosted the amount owed to NTP because of the additional time that had passed and in August of 2003 issued an injunction barring BlackBerry sales in the U.S. The injunction was put on hold pending the appeal, which upheld the lower court ruling.
Earlier this year, RIM announced a settlement had been reached in which it would pay NTP $450 million, but the two companies failed to finalize the deal. RIM said it would ask a court to enforce the terms of the settlement.
Legal observers say several facts complicate the case, including the fact that RIM is located outside the U.S., and that millions of users as well as dozens of mobile operators who re-sell the BlackBerry, may suffer if the injunction is put in place.
The U.S. Patent and Trademark Office has also injected some uncertainty into the case by saying that a review found cause to reject some of NTP's initial patent claims, a decision NTP can appeal.
RIM is likely also motivated to settle the case quickly to reassure subscribers and potential subscribers that its service will not be shut down, even for a short time. The company's most recent quarterly earnings showed new subscriptions at the low end of forecasts. Analysts say a growing range of new products that can offer mobile e-mail will pick up any market share slack left if RIM lets ongoing uncertainty linger.
E-Mail Included
While many BlackBerry users quickly become devotees, analysts say the simple fact is that the hand-held device was once unique, while users now have many more choices. In fact, the emergence of viable alternatives to the BlackBerry may eventually threaten RIM's dominance of the market. Though it has partnered with phone makers to build all-in-one devices, it faces competition form Microsoft and others who are installing their software on rival devices to build so-called "BlackBerry Killers."
Gartner Vice President Ken Dulaney said smartphone makers and mobile network operators finally realized that users wanted a simple push-style e-mail rather than a clumsy Web interface.
"Where they once saw a threat to how many minutes a user consumed, network operators now see the wisdom of enabling robust e-mail services," Dulaney said. "If they build good services, that choice is going to spread out market share going forward."