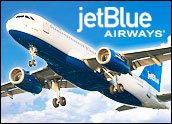 My tour of travel-planning Web sites for the E-Commerce Times has included stops at some of the aggregator sites, some discount companies and some alternative services.
I'm now entering new territory with explorations of the Web sites of the operators themselves. First stop: JetBlue, a discount airline that has carefully cultivated a customer-friendly reputation.
Of course, that reputation has become tarnished along the way, starting in February 2007, when numerous JetBlue passengers were stuck in planes on airport tarmacs — for as long as 11 hours, in some cases — due to winter weather conditions.
The following year a passenger flying on a buddy pass sued JetBlue for allegedly forcing him to sit in the bathroom for a portion of an overbooked flight because an off-duty flight attendant wanted his seat.
There's been no public announcement on the outcome of the bathroom-seating lawsuit, as far as I can tell, [*Editor's Note – Oct. 30, 2009] but the February 2007 episode clearly struck a cord with JetBlue, judging from its Customer Bill of Rights — the first section of the Web site I examined.
The airline industry routinely objects to Congressional proposals for laws protecting airline passengers' rights. Typically, such legislation would require that airlines allow passengers to decamp after a certain number of hours waiting on a plane. Further, they would have to give waiting passengers food and water, as well as access to clean bathroom facilities.
Opponents have argued that such a requirement would mean the financial death of the industry, and some have offered to police themselves instead.
I was pleased to see that JetBlue did not rely on vaguely worded promises but spelled out exactly what it would do in almost every conceivable situation, hour by hour. For example, "Customers whose flight is delayed for 6 or more hours after scheduled departure time due to a Controllable Irregularity are entitled to a Voucher good for future travel on JetBlue in the amount paid by the customer for the roundtrip."
A "controlled irregularity" was defined, along with other such terms as "ground delay" and "contract of carriage."
The JetBlue Passenger Bill of Rights also promised that any passenger denied boarding due to overbooking would receive US$1,000 in compensation. As for the worst-case scenario — passengers trapped in a grounded plane on a tarmac for hours — JetBlue promised food and water, clean bathrooms, medical attention if necessary, and even entertainment in the form of 36 channels of DirectTV.
'Where We Jet'
With that settled, I was ready to move on to the rest of the site. I noticed an interesting interactive map under a tab called "Where We Jet," a real time-saver for passengers taking less-traveled paths. I could immediately see that if my destination were Normal, Ohio, or Green Bay, Wisconsin, I would have to fly on a different airline.
The feature was fun to use. After I clicked on my origin and destination requests, the map responded with bounding leaps to show me the route.
It was also possible to book travel on that particular page, as well as through the standard fields displayed on the site's home page.
Still tackling the next-to-impossible exercise of finding a low-cost, last minute flight for Thanksgiving weekend, I searched for flights from Washington Dulles to New Orleans departing Nov. 25 and returning on Nov. 30.
I got back a $690.40 offer to book a round-trip ticket with only two seats left on the first leg of the trip. I then inputted new dates — departing Nov. 22 and returning on Nov. 27, which netted me a $390.40 ticket.
Bare Bones Value-Add
I moved on to look at the extras JetBlue was offering its passengers. Some airlines' Web pages are so well equipped with tracking tools that they could serve as stand-in interfaces for NASA. Not so with JetBlue, which had only the bare essentials for managing a trip, including a flight-notification tool still in beta. Passengers could have a choice of an email or phone message — what, no text? — for updates regarding delays or other changes.
JetBlue also offered hotel and car services through partners, which did surprise me. I had been expecting a straight Web site for plane tickets. Despite its good intentions — and, no doubt, hope for cross-sale revenue — the offerings were sparse and generic.
JetPaws and a Friendly Utah Rep
JetBlue made up for that weakness, however, by living up to its reputation for aggressively friendly customer service. The JetPaws program on the site caught my eye, and I wondered what it would take to transport my 80-pound dog. (For the record, I would never actually do that, as I've heard too many horror stories about things that can happen to animals in the cargo hold.)
The materials on the JetBlue site didn't enlighten me on pet transport. Nor did its "speak up" tab for compliments or concerns provide me with an outlet: I needed to have a confirmation number for a flight before I could pose a question.
I could send an email and expect a reply within five-to-seven business days. Or, if I wanted immediate assistance I could call. As I waited for a rep, JetBlue informed me that a "friendly customer service agent in the Utah area" would soon be on the line. Sure enough, Kelsey answered almost immediately and she was very helpful: JetBlue did not fly animals in cargo, I was happy to hear. She suggested I try pettravel.com if I wanted to find an airline that did.
Bottom line: If you happen to be flying to or from the select locations JetBlue services, then try using its Web site to book your trip. Despite its past boners, JetBlue appears to be serious about wanting to keep its customers happy.
---
*ECT News Network editor's note – Oct. 30, 2009:
JetBlue flight attendant Sandra Bailey informed the E-Commerce Times that the case was dismissed earlier this year, according to a
UPI report.
---