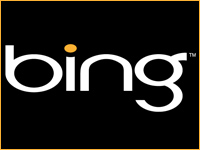 I remember when Kayak accused Bing of "borrowing" some of its design features last year. At the time, I wondered if indeed Kayak had a legitimate complaint — the sites' designs are similar. However, after reviewing four separate travel-planning Web sites,I have concluded that Bing and Kayak could not have sprung from the same ideological source.
Let's face it: All of these sites are built around a key interface feature that does not change — that is, a field that accepts departure and arrival dates for flights or other travel.
The rest is just window dressing — and therein lies the problem for many sites, which are impossibly cluttered and difficult to navigate. A few, on the other hand, have proven to be clean and straightforward with few ads.
Based on its home page, Bing appears to fall in the middle of the spectrum.
The all important trip arrival and destination field is at the top, and it takes up at least three-fourths of the page — a good thing that differentiates it from many of the other sites.
Rio Ho
Now, on to our E-Commerce Times travel test of the week.
I searched for a ticket to Rio De Janeiro, Brazil, with an immediate departure date — the next day — because that was the mood I was in.
A few clicks later I could see my dream of running away was financially feasible. Bing, like Kayak, groups fares in a vertical format, which is easier on the eye. Multiple airlines, it seemed, would fly me out of Baltimore Washington International Airport for as little as US$1,000, with a return flight on Nov. 11.
From that point on, though, my fantasy of running away got clouded by reality — not that it was Bing's fault. My first survey of the available choices showed me just what a pain it would be to get to Rio from my little spot in world. Before reaching my dream destination, I'd have to fly to New York and then Sao Paulo. Ditto the return flight. I located a pricier flight on Delta with only one stopover, and it would be heading in the right direction. A connection in Atlanta would take me straight to Rio.
Difficult to Compare
Bing Travel does not make comparison-shopping as easy as one might hope. The layout makes it difficult to compare departure and arrival flight times. It also takes a long time to navigate to each airline's page — more than just seconds, in some cases.
Bing Travel also didn't appear to be inclined to stop me from making a tragic mistake: In another test, while I was looking for a flight to Charleston, S.C., Bing saw no problem with my purchasing a ticket for flight 972 on US Airways — a flight that would have been leaving within an hour and a half.
I realize it's none of Bing's business — and no doubt it doesn't have clue how deadly rush hour traffic in the D.C. area can be — but it's nice when a Web site shows it's looking out for its customers. (One of my most fond memories of Amazon is that one time it stopped me from purchasing a CD that I had bought a year earlier but didn't remember I owned). The total tab for the right-now Charleston flight, with a Nov. 11 return date, was $591.40 — not that much less than a flight to Rio, and given the time constraints, it was one I was equally unlikely to make.
These complaints aside, there are nice touches to Bing Travel: It provides links to sponsored competing sites like Bookingbuddy and Expedia to make sure you are getting the best deal.
It has an interesting — and fun — click-and-drag tool that lets you change flight times. If you want to pick a flight that is leaving at 5:28 p.m. instead of 6:10 p.m., then Bing Travel is your kind of site. It also has the obligatory deals, listed according to "record lows." These did indeed look good. One, for example, was a flight from New York to Las Vegas for $239 on Delta. Bing's seven-day price predictor, told me that this New York-Las Vegas fare had about a 64 percent chance of holding steady until its departure on Oct. 14.
There are some noticeable omissions, though: Where, for example, are the warnings that I will need a passport for international travel? Okay, I knew this, but easy-to-find information on the latest Visa requirements would have been nice as I shopped for my flight. Missing too are all the complementary services that other sites like to bombard you with — and that I have complained bitterly about. A trip to a strange destination, it seems, makes one suddenly vulnerable to such pitches.
Bottom line for Bing Travel: It's not that well established, and in many ways — both good and bad — that's evident in its interface and design. Hopefully, it will keep its focus on sparse design as it upgrades, and include features that are truly useful to customers.