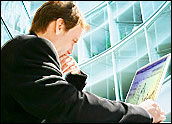 When an Indian company tried to sell its Swastika brand of clothing in the West, it was not quite prepared for the backlash.
Why?
Well, in Hindu culture the swastika is a highly revered religious symbol of peace and well being. It is actually used ceremoniously to ward off evil. The trouble is, no one had done the necessary homework to find out about how that word and symbol were perceived in the West. It wouldn't have taken much research, right?
That is the point of localization. It's about making sure your product or service — and the way it's represented to customers — is linguistically and culturally appropriate for the target audience. It sounds straightforward, but you would be surprised at how many companies go down the road of Swastika Industries and never discover why their brand bombed abroad.
The good news is that localization of global Web sites is not as esoteric and complex as you might think.
There are a number of factors to consider when you decide to launch your international e-commerce site. Localizing your Web site will involve a cross-disciplinary approach. The techy bit — where we translate the user-interface elements of your software and warn you not to concatenate your strings — is the part easily handled by localization vendors.
There are three other major elements you need to get right along the way: copy, design and SEO.
Getting the Message Right
There are two ways to make sure the copy on your Web site hits the spot in your target market. In the language industry, these services are called "transcreation" and "international copywriting."
Transcreation is translating copy from your domestic Web site and adapting — or localizing — it so that it works in your new target market. This process ensures the new copy is linguistically and culturally appropriate and persuasive for your new audience.
International copywriting goes one step further. It is the process by which you provide the original creative brief to a copywriter in a foreign language. Just as you brief a writer or a creative agency to write the copy for your domestic Web site, so should you brief a copywriter in your new market. The copy, therefore, is created from scratch, specifically for your target market.
In both cases, the copy is reviewed by professional translators with experience in your market, creative editors and your own in-country marketing departments or internal reviewers if you have them.
Whether transcreation or international copywriting is right for you will depend on your products, your messages and your expectations for your site's success in the new market. A localization agency will help you make this decision and will ensure your messages hit the spot with your foreign customers. By taking this approach to translation, you ensure cultural blunders are avoided and that your audience will identify with your message.
International Design
Depending on your brand, design may have to be altered a little or a lot for your new market. International design is a balance between brand consistency and adaptation to the local culture.
It can be as simple as a change of colors and symbols and adapting design to fit with local Web standards. Equally, it can be as complicated as starting design from scratch to fully customize it according to graphical trends and customs, colors, symbols and other cultural influences.
Apple, for example, doesn't change the design for its iPod Web sites at all. The language changes; the look and feel remain the same. On the other hand, Unilever's household products sites are almost unrecognizable from one country to another. The Unilever brand remains intact, but the ways in which it appeals to the (mainly) women who use its household products in each country are vastly different. That's simply because the needs, concerns and desires of women using Persil in the UK are in stark contrast to those using it in Indonesia.
International SEO
Once you've got your site localized, you want it to be found, and just because it's got a page one Google ranking in the U.S., does not mean it will achieve the same result in China. In fact, your new customers may not even use Google!
International SEO is not the last step in the process — it's the first. The terms and phrases your customers use to search for your products in the new market are probably not a direct translation of the terms and phrases your domestic customers use.
Research will need to be undertaken to find out how the locals talk about your products, and the terms and phrases they use to search for products or services similar to yours. Those phrases will need to be briefed to the copywriter so they can be included on the site. They will also be used in your meta data.
It is advisable to register the site locally and to host it locally, too, with the appropriate top level domain: .co.uk, .de, .com.au, etc. Search engines love this.
Making Your Site Work
Of course, once you've got the copy, design and SEO right, you'll need to make sure your site works for your customers. That's where the software engineers step in. They'll work with your developers to get the site to a state where it works just as well in the new market as it does at home.
The first thing they do together is to develop the localization kit — that's the set of tools, source files, test scripts and instructions that act as a central repository for the information needed to localize.
Engineers then get to work on the translating strings and getting the user interface to work in the target market. Once that is complete, a quality assurance process will take place to check for bugs, and then it's on to testing. Usually, a localization partner will conduct testing for you, but it's always an idea to conduct a certain amount of testing yourself. The testing checks the whole user experience — the messaging, the user interface and functionality.
It is at this stage you can breathe a big sigh of relief and launch your site knowing you've given it the best chance of success.
In general, it is better to have a smaller site — one that appeals directly to your target customers and is hosted and optimized locally — than a bad translation of your full domestic Web site. Many companies that have succeeded abroad have started off with microsites that highlight a core offering for new customers. Ask yourself if everything you have on your domestic Web site needs to be available to customers in your new target market. As your success grows locally, so may your Web site.
Tips for Localizing Your Web Site
Know your audience before you do anything to your Web site. Understanding your target market will help you make the right decisions about localization.
Develop a style guide so that you have a set of standards for the design and writing of documents. This will ensure consistency and reduce translation time. It will also help to protect the integrity of your brand.
Localize the copy so that it appeals to your new target market — that is, don't just translate the copy you've got. Implement best practices for international copywriting. This leads to the creation of clear and simple copy that is both easier to translate and easier to understand for your customers. Be sure to include an in-country review of documents to reduce revision costs and increase translation equivalence.
Localize the design according to local preferences. Be sure to take into account cultural meanings of colors, symbols and other graphic devices.
Register your site with local search engines, and host it locally too. Buy the appropriate top level domain — e.g., .co.uk, .com, .fr, etc.
Understand the terms people use in your new market to search for your product.
Be prepared — your developers should work with the localization engineers to put together everything needed to localize before the process begins.
Start small — don't be scared to start off in your new market with a microsite. It is usually not necessary to start off in a new market with all the information and functionality of your domestic Web site.
Take the cultural customization of your Web site very seriously. Lack of cultural customization can lead to cultural blunders, translation blunders, users finding your Web site unfamiliar and strange, lack of stickiness (time user spends on the site), lower propensity to make a purchase, lack of repeat visits, bad word of mouth, and many other attitudinal and behavioral actions from your customers that can undermine your Web globalization efforts.
Get qualified! You can now become an expert on taking your Web site to global success by enrolling in the Executive Online Certificate in Web Globalization Management at Saint Louis University. Also, for professionals who specialize in Web site localization, see the Globalization and Localization Association's Language Technology and Services Directory.
---
Gary Muddyman
is the managing director and CEO of
Conversis
, a provider of globalization, internationalization, localization and translation services and a member of the impartial
Globalization and Localization Association
.Muddyman started Conversis back in 2003 with the intention of advancing the understanding and use of localization and translation as a strategic business tool. He can be reached at
[email protected]
, and you can follow him
on Twitter
.
---