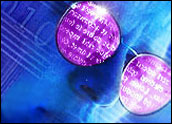 A rose by any other name can raise quite the stink, making the act of localizing Web sites to fit foreign cultures all the more thorny. Even if the product is as sweet as ice cream, it's possible to leave a bitter taste in consumer's mouths.
"Ben and Jerry launched their 'black and tan' flavor of ice cream without realizing that this phrase referred to British soldiers that were best known for their cruelty in the fight for Ireland's independence," Nataly Kelly, senior analyst and cultural communications strategist at Common Sense Advisory, told the E-Commerce Times. "This provoked outrage in the Irish market even before the Vermont-based ice cream maker had a chance to launch the flavor there. It also angered many Irish-Americans in their home market."
Ben and Jerry's brand and flavor meltdown, you'll notice, happened entirely in English. Now imagine what happens when the language — complete with metaphors and idioms — changes? Oh, the horrors, blunders and money lost!
"It is very important to understand the Dos and Don'ts of international business to avoid cultural mistakes that can damage your reputation. Remember you only have one chance to make a good impression," Cesar Vasconcelos, QA localization engineer at EcommerceCMS-Solution.com, told the E-Commerce Times.
So, what can a small business do to make this all-important good impression and thus earn a profit in another culture? Here are the best practice tips from the experts:
Pick Your Country First
The single most common concern small businesses raise with regard to Web site localization is deciding which languages and countries will yield the greatest return on their investment, said Kelly.
Choose according to the actual market potential for your product(s) rather than by size of population, she advised. Ask very pointed questions.
"First, determine how big the potential online audience is in a given country," Kelly said. "In some cases, a country's population might be big, but the people who can be reached on the Web might be small. Second, how much spending power does that market have?"
The top 10 countries ranked by Common Sense Advisory's report "Countries That Matter Most Online in 2009": U.S., Japan, Germany, UK, France, Italy, Canada, Spain, China and Australia. The top 10 languages that provide the biggest bang for a business' buck are: English, Japanese, German, Spanish, French, Italian, Dutch, Simplified Chinese, Portuguese, Korean, Russian and Swedish.
"While these numbers serve to help guide a small business's strategy, companies need to look beyond these lists in order to determine what the available market is for the services or products they are selling on the Web, as well as what the buying behaviors are in each market for those items they seek to sell," counseled Kelly.
Hire Humans
Always use a professional translator to translate your content.
"The machine translations are inaccurate; they can do the job for getting a general idea of what something is about, but when it comes to selling products, the translation has to be 100 percent accurate," said Anne Shroeder, a Web developer at Language Works.
"Make sure that the translator's contract includes proofreading the content once it has been ported up to the Web site," she told the E-Commerce Times.
However, expect your human translator to use machines to translate.
"There are numerous CAT tools that we use for productivity," Melissa Wurst, president of Language Solutions, told the E-Commerce Times.
"Please note that this is not machine translation but rather tools that help us to create an asset of the translation with Translation Memory, manage terminology with a Termbase, and create an interface that the translators can work in which keeps the code of the file hidden," she explained.
This combo approach makes the process very efficient and far more affordable.
Translate Back Again
As odd as it may sound, the best way to ensure you lost nothing in translation is to translate the whole thing back to the original language.
"Back translation is used as a 'proof' that foreign language translations are accurately conveyed by translating them back into English and then comparing them to the original source," Silvie Peric, operations manager at translation and interpreting firm Global Language Solutions, told the E-Commerce Times. "Cultural appropriateness is assured by having the translations reviewed in-country and by conducting focus groups which report any incorrect or nonapplicable findings back to the translation agency project manager."
These requirements, as well as ongoing quality assurance mechanisms such as independent reviews of the translator's work and editor feedback on every project, help project managers to ensure that translations are of top quality, Peric said, even if they don't speak the language of the end-products they are managing.
Prepare to Redesign Your Web Site
It's important to understand that Web site localization is not done in MS Word. "Web site localization is done in … source Web-based files, and [companies] need to speak with their LSPs (language service providers) to best advise them on that," said Wurst.
Beyond this rudimentary understanding of the development process, said Language Works' Shroeder, you'll also need to understand or carry out the following with respect to Web site design:
Do not necessarily count on using the same design for each language implementation; images and colors have different meanings in different cultures.
Make sure that if a database is used, it is defined with a utf-8 character set in order to be able to accommodate letters with accent marks and different alphabets.
Allow for extra time in the development phase to handle implementation of right-to-left languages (such as Arabic).
Understand that the lengths of words and phrases will vary considerably in translations (e.g., Spanish often doubles or triples the length of phrases) and that the design layout needs to take that into account.
As with any Web site rollout, test each language implementation thoroughly on multiple platforms and browsers. Nothing says you don't care more than a broken page.
Begin the Translation Transformation
These are the four best practices for e-commerce site translations, Ryan Donovan, executive vice president of Cactus Commerce, told the E-Commerce Times:
First, choose an international-ready technology solution. This necessitates a solution that is multicurrency-enabled and utilizes extractable/standalone resource files for all text strings, such as product descriptions, etc.
Second, use it! Export your resources files and send to a certified translator. There are a number of certifications available for translations, so it can be a daunting task to find the right one. Start by contacting a recognized association like the American Translators Association. ATA has approximately 10,000 members in more than 90 countries which include translators, interpreters, teachers, project managers, Web and software developers, language company owners, hospitals, universities, and government agencies.
Third, sweat the small stuff. Don't just focus on the content, as user experience is also paramount to the e-commerce experience. Ensure layout and colors are appropriate for the markets you are targeting. In addition, certain languages need more space to accommodate extra characters necessary to convey the same meaning. Be mindful of space allocations.
Fourth, be considerate on the cheap. If you simply can't offer your site visitors a comprehensive experience in the language and currency of their choice, at a bare minimum ensure you have an experience that will degrade gracefully from what can be internationalized. For example, clearly indicate if a page is not available in the local language by displaying a message in that language and then presenting the site's default language — versus an error.