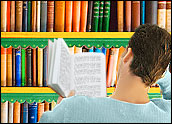 There's no question that books have gone digital. Sure, there are still paper books aplenty in a smattering of brick-and-mortar bookstores — and available online as well — but there's no escaping the proverbial writing on the wall that book-selling behemoth Amazon now sells more electronic books than hardcovers.
Newspaper publishers' efforts to stay afloat in the digital era have been widely publicized and discussed, but what about those who publish books? Are book publishers adapting to and leveraging this sea-changing digital trend, or are they just wailing about the death of print and waiting on the inevitable?
"'Old fashioned' publishers are very proactive online," Lynette Kittle, senior publicist at Random House's WaterBrook Multnomah division, told the E-Commerce Times. "We are not resisting digital trends at all but flowing in all that's available."
Amazon's Double-Edged Sword
Amazon is a major driver of change in the book-publishing world, of course, and it clearly aims to outright own the lion's share of the industry.
The Kindle is its top-selling product. Goodreads and Shelfari are also owned by Amazon and both are rapidly growing social networks built for book lovers. There, readers can offer reviews, make recommendations, comment on trends and pass along links and news regarding authors, signings and readings. A popular feature on the Kindle involves the ability to share what you've just finished reading with your social network.
"As a publicist, I pitch bloggers, webzines, online sites big time, offering giveaways and asking they also post their reviews on Amazon and wherever they can online," says Kittle.
Yet the publishing industry worries about the pitfalls in quietly marching to the beat of Amazon's drum. For example, the review communities at Amazon have become controversial due to fake or bad reviews given for the wrong reasons, both of which can irrevocably harm book sales and an author's credibility and marketability.
"Independent and trusted sources of recommendations are becoming increasingly important for readers to find and discover books," said Kim Anderson, CEO of TheReadingRoom.com, an independent online portal dedicated to helping avid readers discover books.
"Algorithms can play a part in this, but in the end, it is finding like-minded readers who share your reading tastes that can lead to one discovering books and authors hitherto undiscovered, as well as new and emerging authors," Anderson told the E-Commerce Times.
Publishers clearly can't afford to ignore Amazon, however — nor can they afford to ignore other digital marketing opportunities and book communities.
Random House's Digital Footprint
"At Random House we're constantly thinking about ways we can use technology to connect our authors with readers," Milena Schmidt, digital communications manager at Random House Digital, told the E-Commerce Times.
"A few of the ways we're achieving this goal is through BookScout, our book-discovery app for Facebook, and our family of vertical sites that cater to a wide demographic on readers online," Schmidt explained.
Random House's vertical offerings include community sites for science fiction lovers, cooking fans, biography aficionados, politics buffs, film enthusiasts and personal wellness fans.
"Our vertical sites serve as online destinations and are also great vehicles to share and syndicate content and articles through social networks and blogs," explained Schmidt. "They also have a dedicated editorial staff and marketing teams that rely on analytics, curated newsletters and creative campaigns to effectively reach readers in the digital age.
"Like BookScout, our verticals also share books across all publishers for a genuine book-discovery experience," she added.
Beyond the publisher's ongoing work to form and maintain a strong online presence, Random House publicists are also working the digital marketing front.
"Publicity hits are posted on Facebook and Twitter complete with appropriate tags," Kittle noted. "We're very proactive, posting giveaways on Goodreads and more."
Other Big Publishers
Random House isn't the only big publisher charging the digital field.
"We are very excited about the ways that social media and digital marketing enable us as a publisher to engage with readers directly, and enable readers to discover books organically through recommendations from their friends," Sara Baker, digital media and social marketing manager at Globe Pequot Press, told the E-Commerce Times.
"As a publisher we can help that process along in several ways," Baker added.
Globe Pequot Press helps readers discover its titles by leveraging Amazon's Goodreads, including through the advance giveaways of books and galleys.
"For example, for The Kids' Outdoor Adventure Book, we had 1,200 people enter to win one of 10 free copies," Baker explained. "That might not sound like a lot compared to a fan fiction title, but in the outdoor/guide genre, it's a very strong number.
"Goodreads users are great about writing early reviews and adding books to their shelves, which builds buzz and helps elevate that particular title in searches," she added.
Globe Pequot Press also builds its own online communities to attract readers.
Falcon.com, for example, is the publisher's online community for outdoor enthusiasts.
"Members who visit Falcon.com can access exclusive interviews with top hikers, climbers and others in the outdoor world, and can share their own outdoor adventures with each other," Baker pointed out.
"We then communicate to those users via the site and through a monthly e-newsletter that enables us to offer special members-only promotions," she added. "The next step is to use the information we get from that core of committed fans to make strategic decisions about future editorial products."
Small Publishers
Small publishers use digital marketing tactics to push their titles and authors too.
"It's especially important and advantageous for small presses to have a strong online presence — this levels the playing field a bit, since many of us don't have big marketing budgets for ads, bookstore displays and promotion and other 'traditional' marketing," Midge Raymond, co-founder of Ashland Creek Press, told the E-Commerce Times.
Not all of them step with both feet onto that level playing field, however.
"I use social media somewhat, mostly for announcing new title releases and trying to nudge people ever-so-gently to check out one of my published titles without turning them off or ticking them off," offered Michael White, founder and managing editor of Parson Place Press.
"To date, I haven't gotten involved on Goodreads or Shelfari, but I hope to eventually," White told the E-Commerce Times. "I simply don't have enough time to spend on all of these sites because of working on other titles for publication, promotion, etc."
LinkedIn, Twitter and Facebook are the sites that currently account for most of White's online time, he said.
"Whenever I post an update on LinkedIn, it is automatically posted on Twitter within seconds, which in turn posts it on Facebook within seconds after that," he explained. "My personal blog also updates to LinkedIn, which starts the chain reaction once again.
"While I can't provide any firm stats which confirm the effectiveness of using these media, it seems to work to a small degree," he said.
Authors Are the Quarterbacks
While publishers both large and small are hard at work building destination sites, wielding social media might and leveraging other reader communities, they all say that they depend on authors to deliver a big digital punch, not only through their own social media and websites but through other digital venues as well.
"Sites like Shindig allow our authors to interact with readers without leaving home," says Globe Pequot Press' Baker.
"Twitter chats are another great way to connect potential readers with authors," she added. For example, "two of our authors teamed up to do a Valentine's Day tweet chat on 'Dieting and Dating' that was a big success."
The Author-Publisher Digital Partnership
Authors don't even blink at the requirement to help with the marketing of their own books. After all, they've been doing that forever.
In past years, it generally meant a great deal of travel to do book signings and local TV and radio interviews. These days, travel is kept to a minimum but the marketing work is more intense. It makes sense for authors to do it, however, since new digital marketing tactics not only up the ante on book royalties but can help in other ways too.
"Digital promotions can also play a role in author discovery," Baker noted.
"We publish an author named Joseph Heywood, who has a series of mysteries," she said. "So we did a promotion through BookBub offering a free copy of the first book in the series, and we had more than 5,000 downloads.
"It will take a little while to see how that translates to future sales, but our hope and expectation is that after people read one Heywood book, they'll be hooked on this amazing series," she added.
Authors can also be discovered by publishers via social media, websites and other digital exposures. So can publishers, it turns out.
"I recruit authors and publishers from Goodreads, Amazon, Twitter etc., and before I accept their submissions I tend to read the online reviews," Daisy White, founder and owner of Daisy White's Pop-Up Indie Bookshop, told the E-Commerce Times.
"Once the submissions are accepted, I showcase and promote the works at events," she added. "Although this project is in its infancy, I have recently been invited to take the Bookshop to the prestigious Ardingly Arts Fest in London and now represent 40 different authors and small publishers, thus utilizing online activity with traditional hard-copy presentation."
Publishers are experimenting with several new digital promotion venues as well in the effort to push their authors forward.
"We've been experimenting with truly unique book promotions from Simon Schuster, Penguin and Harper Collins as well as small presses like BookTrope and even independent authors that give bestseller visibility and downloads to an otherwise unknown title," said George Burke, founder and CEO of both Kindle/Nook lending/swapping service eBookFling.com and the free Kindle ebook alerts serviceeBookDaily.com.
In most such promotions, the author is either actively participating or heavily promoted.
"Author website links are added to all press releases," says Random House's Kittle. "We do Livestreams with authors, online chats and posting author events online at every site possible."
'Some Things Work Better Than Others'
In the end, much of the online marketing used by the publishing industry is a gamble, simply because such a big change requires some risk-taking and experimentation before a successful method is eventually found.
"Our clients have done twitter chats, Skype chats with book clubs and libraries, virtual book launches, QR code promotions and more, Dana Kaye, owner of publishing-focused Kaye Publicity, told the E-Commerce Times. "You name it, we've tried it, and I can say from experience, some things work better than others."