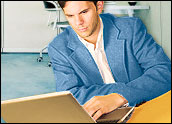 This story was originally published on June 1, 2010, and is brought to you today as part of our Best of ECT News series.
Empty office space litters skylines, freeways and office parks. Once-busy hives of cubicles have become empty steel and concrete caverns. Their previous occupants met with a variety of fates: Some were victims of a deep recession; others were washed away by tsunamis of cheap labor in foreign lands; still others were unleashed by virtual technologies. Only the last group of former office dwellers have freed themselves willingly. They did so by exchanging their physical presence for a virtual existence.
"My partner and I have run the business from a lakeside dock in Canada and a hotel in Barcelona, for around US$200 per month for all the necessary tools," Stephanie Pakrul, cofounder of TopNotchThemes, told the E-Commerce Times.
Virtual and Real
"Our virtual assistant wakes up on the East Coast, checks the mail, checks for voicemail, answers support emails, and I get a report of anything pressing by the time I'm awake in Pacific time," explained Pakrul.
The TopNotchThemes team uses the following tools to make their virtual existence concrete:
"There are some huge benefits to Earth Class Mail in particular, in that you can get an actual street address, not just a P.O. box," said Pakrul. "Plus, with your mail scanned quickly online, you don't need to re-ship everything, and often can just have the paper copies shredded and keep the scans, which keeps down the cost and paper."
A Place to Be
If, however, your business is the type that needs the occasional meeting room and all snail mail as original hard copies, then opt to be a virtual tenant in any number of actual offices.
"We have a virtual tenant who is actually in China," Jeremy Wolf, owner of Wolf Commercial, told the E-Commerce Times. "We box his mail and ship it to him once a week."
Many of Wolf's virtual tenants, however, are attracted to the common areas — namely, boardrooms and fancy lobbies with highly skilled receptionists. Still others like the faux caller ID.
"You can either plug one of our phones into your computer or install some simple softphone software. Either way, the receptionist can transfer calls to you anywhere without the caller knowing you're outside the premises," he added.
"You can also call anyone and the caller ID will show your 'office' number, not the number where you actually are," he said.
The result: A small business can appear much larger, and workers never have to set foot in an actual office again. On the downside, it's much easier to set up a scam operation these days!
The costs for a virtual tenant is "roughly 25 percent or less than a regular tenant," said Wolf. The lowest rent Wolf offers regular tenants is $1,000 a month. By comparison, virtual tenants pay $250 a month, on average.
Computer Masquerade
Two other trends are freeing entrepreneurs to roam where they please and still appear anchored to their desks: hosted servers and cloud computing. A data center can be anywhere and still be accessible. The options are plentiful and tailored to specific needs. You can create your own data center as a virtual tenant in an office building or even in your home. Or, you can choose to rent space on someone else's server (hosted) or use cloud computing and spread the workload across many computers.
Accessing your data remotely is a near no-brainer exercise. Hosted and cloud systems can easily be accessed online, often simply through a browser. So can desktop computers via virtual network computing (VNC) such as Softwareforme's Phone my PC, Microsoft Windows Remote Desktop Connection or Citrix's GoToMyPC.
In addition, technologies that speed data transfer and streaming on mobile devices are rapidly advancing beyond their former limitations. Technologies like the newest versions of Bluetooth, as well as 3G and 4G tools via cell providers, are elevating mobile devices over fixed ones.
These technologies mean that a specific computer and a specific place are now no longer necessary. Anything and everything can exist anywhere and be used from anywhere. Place, as we know it, is no longer anchored to an earthy address.
One-Man Band
Virtual tool choices are determined by the tasks at hand and the image desired.
"I use Google Voice to give me an LA area code even though I'm headquartered in Chicago," Rien Heald, founder of MuVChat, an alternative entertainment company, told the E-Commerce Times. "Since I'm a movie-related business, I figured an LA area code was a good thing to have."
Heald uses the following tools for his business:
1) Google Apps. These include Gmail for email, branded by his domain.

2) His own contact management system — a combination of Word, Excel and Google Desktop search. "I put it together years ago and have used it for many different jobs, projects, etc.," Heald said. "It is very similar to 37Signals' Highrise, but while Highrise is an online tool, this is a desktop system.That said, I have begun experimenting with 37Signals' toolsets (Basecamp, Highrise) and plan to use the freebie versions until I outgrow them and need to purchase something. I like them because they don't try to do too much and they're pretty flexible."

3) Rally Software. "It has a really nice agile management tool, and they have a free version for SMBs that you can use to manage software development projects," noted Heald.

4) GoToMeeting. A "great and pretty cheap tool" that he uses with his consulting. "We use it to do customer demos or when I need to get 'face to face' with a remote resource and I need to show them something, or I need to view their desktop, etc.," he said. "Less than $50 a month provides unlimited desktop sharing, conference calls, and other services."

5) FreeConference. It "is a pretty decent free conference call provider," he said.
SMBs with a more global outlook will need a different tool mix.
"One technology that helps us the most is BaseCamp," Devesh Dwivedi, an entrepreneur with multiple lines of businesses, a virtual office and team memers in India, Philippines and the U.S., told the E-Commerce Times. "It allows every possible function and feature a project management solution can offer or an SMB would possibly need.
"It's very inexpensive and even the clients love it, because once the administrator has subscribed, any individual or business — clients, vendors, employees — can simply join in without a need of downloading." he explained.
In addition to Basecamp, Dwivedi uses the following tools:
1) ooVoo for face-to-face conference calls and discussions and

2) Vonage World for phone, which "has cut down our phone bills to a flat fee per month, even though we call India and Philippines for hours and hours per month," he said.
"If you are interested in the numbers: Basecamp costs us $24 a month. We have never paid more than $55 a month for Vonage World, including all taxes and some upgraded features. OoVoo costs us $10 a month," he said.