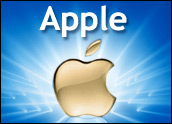 Almost overnight, it seems that Apple and its products, led by the iPhone, the iPod and the Mac, are everywhere — including in the corporate enterprise.
Apple's presence as a favorite staple in the consumer market segment is accepted, expected and taken for granted. The corporate enterprise is another matter. Apple hasn't been a significant player in the corporate enterprise and networking arena since the late 1980s. All that started to change over the last three years.
The ascension of the iPod and the iPhone as "must have" consumer devices ignited interest in using Apple devices in corporate offices. What began as a singular grass roots movement, bringing Macs in through the back door, has now morphed into a ongoing sustained trend that mirrors Apple's own waxing fortunes.
Consumers Led the Way
Apple's resurgence in the enterprise is a perfect example of the consumerization of IT at work. It began slowly and inconspicuously, as Apple aficionados asked their IT managers and supervisors if they could use their home-based Mac systems as their corporate desktops. Supervisors and IT managers were happy to comply, since Macs are known for their ease of use, which allows end-users to self-manage and troubleshoot their devices. It also helped that many users were running Office for the Mac, which interoperates with standard Windows-based systems.
Another factor in Apple's favor is the steady increase in the percentage of remote, telecommuting and traveling users. ITIC survey data indicates that over 40 percent of employees — irrespective of the size and vertical market of their business — telecommute or travel at least part-time. This has emboldened end-users to lobby for their favorite desktops, which, in many cases, happens to be Macs.
Additionally, advanced features, aggressive hardware pricing, attractive new bundles, and integration and interoperability with crucial mainstream business applications such as Microsoft Office and Adobe, as well as support for remote and mobile access and virtualization, have made Apple Mac hardware and the OS X 10.x increasingly viable choices for enterprise environments.
Another big plus for Apple: Its niche market status means that it's far less of a target for hackers (although it's not immune) than Windows x86-based PCs. Although Apple has fixed several security flaws in the OS X 10.x operating system this year, Macs are a comparatively safe haven from the myriad viruses, bots, Trojans and spam that invade the Windows environment on a daily basis.
Deeply Entrenched
ITIC has tracked the trend via independent Web surveys and first person interviews with IT managers and C-level executives. The results of three separate, independent surveys over the last 12 months all indicate that the Apple Mac and OS X 10.x continue to make significant inroads into mainstream enterprise environments.
The independent ITIC survey (Apple had no input or involvement in the survey) polled more than 700 global IT administrators and C-level executives worldwide via the Web, in October 2008 and May 2009. The most recent survey is now ongoing. The results show that four out of five businesses — approximately 80 percent — have Macs and the OS X operating system installed in their networks.
The responses indicate that Apple products are much more entrenched than expected. Nearly one-quarter, or 23 percent, of the survey respondents indicated they had a significant number — more than 30 Apple Macs and instances of OS X 10.x software — present in their corporate networks.
Among the other survey highlights:
Almost three-quarters of the survey respondents — 73 percent — indicated they were likely to allow their end-users to deploy Macs as their corporate enterprise desktops within the next 12 months. That's a 5 percent increase from the 68 percent that responded affirmatively to the same question in October 2008.
Seven out of 10 businesses — 70 percent — rated the security of the Apple Mac and OS X as "Excellent" or "Very Good."
Eighty-five percent of corporations rated the reliability of Mac hardware and OS X 10.x as "Excellent" or "Very Good."
More than three-quarters of businesses — 79 percent, or about eight out of 10 — said they had Macs in their shops.
Some 27 percent had a significant number of Macintoshes (more than 30) present in their organizations; a 4 percent gain from the year ago survey figures. ITIC expects that percentage to climb to over 30 percent in 2010.
Most tellingly, 69 percent of those queried in the current poll said they planned to increase integration with existing Apple consumer products such as the iPhone to allow users to access corporate email and other applications.
Look Ma, No Marketing!
Throughout 2009, Apple has achieved numerous milestones, including several straight quarters of record-breaking financials. For the 2009 fourth fiscal quarter ended in September, Apple posted the second-best financial results in its history: quarterly revenue of US$9.87 billion and net profit of $1.67 billion. The company's gross profit margins were 36.6 percent, up from just under 34.7 percent in the year-ago quarter.
Much of this growth was fueled by iPhone and Mac sales. Apple sold 7.4 million iPhones during the quarter, a 7 percent increase year over year, and it sold more than 3 million Macs — an increase of 17 percent year over year. Traffic continues to be brisk at the Apple retail stores and the online App Store. To top it off, Apple has nearly $34 billion in cash.
Apple has been one of the few consistent overachievers in a down economy over the last 18 months. All this adds to the company's allure among consumers and corporations alike.
Apple's increased enterprise presence is no fluke. It is now a clear and sustainable trend. How much traction Apple can achieve in enterprises is still unknown, but to reiterate, Apple has not been this relevant in the enterprise since the late 1980s. It's not likely that the Apple OS X 10.x will overtake or displace Microsoft Windows as the desktop or server operating system market leader. However, barring any egregious missteps or the emergence of serious technical or security flaws, it is likely that Apple will continue to expand its presence and influence among corporate enterprises.
Perhaps the most amazing aspect of Apple's emergence in the corporate environment is that it has occurred without any formal marketing by Apple itself. Instead, the company has remained mostly silent, preferring instead to let its consumer users evangelize for it in the enterprise. At some point, if it is serious about the enterprise, Apple will have to implement a formal strategy. Right now, though, corporations are liking those Apples.
---
Laura DiDio
is the principal at
Information Technology Intelligence Corp.
(ITIC), a research and consulting firm that covers the high-tech industry.