It's one thing to ship books and electronics across the U.S. — but it's quite another to get fresh fruit, baked goods, meat, fish, prepared meals, raw meal ingredients, and other perishables to consumers' front doors in prime condition.
Once perishables are delivered to a customer's door, they often have to sit there for an unpredictable amount of time before the customer gets home, which complicates things considerably. While cooled packages have been around for some time now, most are not really up to the task at the level shippers and customers want them to be.
Now, thanks in large part to new vessel and packing technologies — and a lot of help from the Internet of Things — nonfrozen perishables can indeed arrive fresh.
Peter Piper Picked a Peck and Packed It in the Vessel
Unlike traditional cooled packing, which essentially adds a refrigerant or a cold pack to an insulated wrapping, new technologies allow more exact temperature control. That means fresh foods neither get hot enough to wilt nor cold enough to freeze, but stay at exactly the right temperature to maintain freshness to perfection.
That's harder to do than one might think.
"To design a shipping vessel capable of maintaining really high standards in temperature control, which is 33 to 41 degrees consistently for food safety and freshness, was one challenge," FreshRealm CEO Michael Lippold told the E-Commerce Times, "but to also meet carrier requirements and overcome shipping container abuses at the same time really tested design parameters."
FreshRealm did indeed meet its goal with the creation of its Vessel. Yes, that's its name: "Vessel."
It's a shipping container for perishable food that includes fresh-cut fruits, veggies, meat, freshly prepared meals, raw and fresh meal ingredients, and other fresh edibles. It keeps food refrigerated at consistent levels of 33 to 41 degrees Fahrenheit without using electricity or disposable cold sources. Exactly how it does that is a trade secret.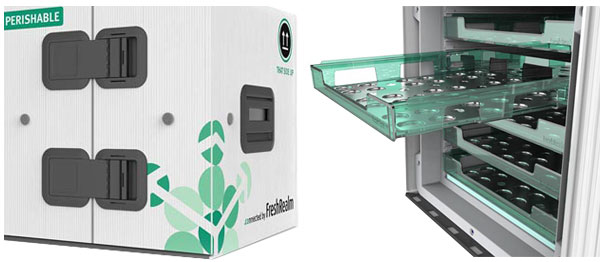 Because it's environmentally conscious and also wanted to lower costs associated with using the Vessel, FreshRealm made it reusable and capable of summoning a carrier all by itself to pick it up after use. Yes, enter the Internet of Things.
"Our business model is to pack and ship fresh food within 24 hours. We shrink the entire farm-to-table process to one day," said Lippold.
"The Vessel can then stay on the customer's doorstep until as late as 9:00 p.m. and maintain food safety and freshness," he said. "After the customer unloads the food, all they have to do is set it back on their doorstep. The vessel will automatically summon a carrier to pick it up."
It's a no muss, no fuss way to get fresh food faster than your neighborhood grocer can get it shipped in.
"It cuts out the middlemen, which should also cut consumer costs for fresh and high-end foods," said Lippold.
For the moment, FreshRealm ships only to customers within the state of California, but it plans to expand as soon as it works out the logistics of how to get food from anywhere to anywhere in a 24-hour period without shipping by air. Air shipments would increase the costs, something FreshRealm wants to avoid. It didn't comment on the possibility of drones in its future.
There's Gold in That Cold, Shippers Think
Shippers and carriers have a secret fear. They see retailers like Amazon making plans for drone deliveries, and they see 3D printers popping up everywhere. None of these are good signs for the industry. When retailers routinely start shipping by drones, and manufacturers begin sending code to 3D printers instead of shipping products by carrier, the industry can kiss much of its profits goodbye.
Some companies already are preparing to adapt to those expected massive changes. For example, FedEx-owned Kinko's and rival UPS stores already are stocking 3D printers in some locations in the hope that customers will use them rather than buy their own, thereby giving carriers a piece of that action.
However, retailers like Staples already have entered into that competitive fray too. 3D printers have barely come out of the box, and yet everyone's jumping into the market — and with darn good reason.
Still, shippers aren't betting the bank on 3D printers. They're looking at fresh perishable shipping as a possibly sustainable gold mine.
Consumers are dazzled with 3D printer capabilities — ranging from producing human organs to, well, just about anything. However, many people will draw the line at printed foods, just as they shun GMO foods. These days, if it isn't natural and organic, many consumers just don't trust it enough to eat it.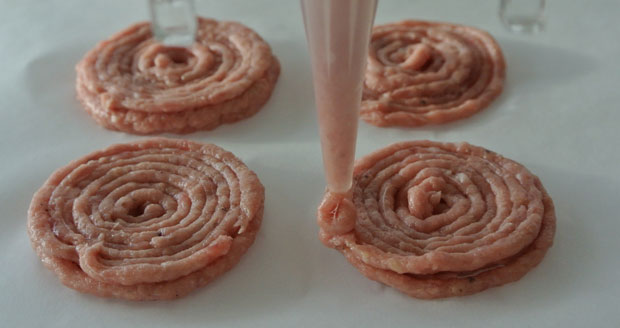 3D-Printing Hamburgers With Foodini
Of course, consumers may change their mind about that, given Hershey's already is 3D printing fancy chocolates. In the near- to mid- future, foods of all kinds can be printed at the kitchen table with a home 3D printer. What happens to grocery stores and shippers then?
Even so, shippers are betting that consumers will like fresh, naturally grown foods — especially if getting them is faster, easier and cheaper than printing them.
That's why they are spending an inordinate amount of time, money and effort on perfecting shipping processes for perishables. FedEx, for example, is in the process of building a temperature controlled logistics facility, scheduled for completion in fall 2015, to allow more precise temperature control of perishable shipments and an added level of assurance in the event of delays.
FedEx TechConnect last year opened the Package Testing and Design Lab — a 30,000-plus square-foot facility providing free package testing and design services to customers of all sizes.
"We can simulate any part of the FedEx network anywhere in the world, from the desert to the rainforest to the Arctic," said Cary Pappas, president and CEO of FedEx TechConnect. "The facility allows FedEx to test and design packaging for a wide variety of products that their customers may ship — from perishables, glass, delicate electronics and life sciences, to large freight shipments."
Other carriers are following a similar course in an effort to secure their future — or at least a piece of it.
The cloud also comes into the picture when it comes to protecting the freshness of shipped food, and in making it possible for shipping containers to be tracked or to summon a carrier to pick them up.
"Having on-time deliveries is critical for perishable foods, and with cloud-based transportation management systems technology, shippers have real-time collaboration with transportation partners, driving improved on-time pickup and on-time delivery, and reduced order turnaround times," Walt Heil, vice president of transportation solutions at Kewill, told the E-Commerce Times.
Theft-Deterrent Containers
There is another category of vessels and containers associated with perishable shipping demanding redesign: home receptacles. Certainly, the age-old mailbox won't do. In the first place, it's illegal to put anything in those things other than official mail. Secondly, home mail boxes are too small to hold grocery containers; and thirdly, they offer no protection either from theft or spoilage.
While it's great that FreshRealm's high-tech Vessel can keep your food fresh until you get home later that day or night, the thing doesn't know karate, so it can't protect itself from theft. Considering that it's a member of the Internet of Things, it probably would be easy to track its location, so the long arm of the law and reach out and grab the thieves. Of course, all thieves have to do is remove the food and leave the container behind, thus thwarting its tracking capabilities.
Fortunately, people are working on solving the theft issue too. One example is the iHomedelivery "personal doorman," a smart device designed to hold and keep your delivered perishables fresh in an insulated compartment. It can secure other deliveries at the same time.
"Not only can the iHomedelivery hold perishable items in its insulated compartment, but with a unique design it can hold drycleaning amd laundry for pickup and delivery, as well as keep traditional mail and parcels safe from theft and weather," said Ashley Adewuyi, founder and CEO of Liloe, the maker of iHomedelivery.
"iHomedelivery is a smart home appliance, with a smart lock and app," Adewuyi said. "Consumers can monitor the device's activity — including entry/closure and receipt confirmation — and even grant entry from their mobile device."
iHomedelivery will not be on the market until next year, but Adewuyi provided the E-Commerce Times with a sneak peek: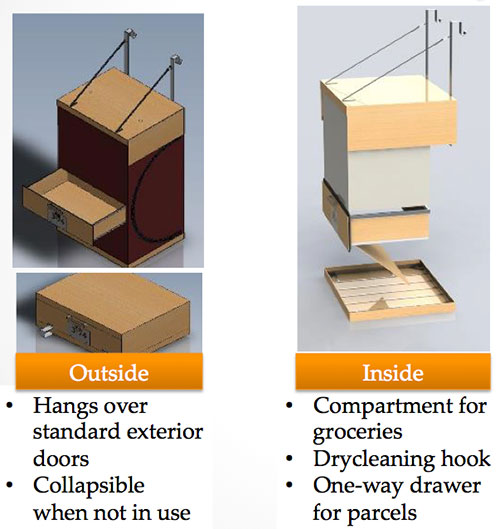 No doubt others are busy preparing new, secure, smart receptacles for fresh food shipments and other delivered goods as well.
As these efforts become stronger, better and more prevalent, and as new technologies come fully into play, online merchants likely will see their sales skyrocket — but make no mistake, several industries will be disrupted too.
We're heading toward a brave new world with drone deliveries, 3D-printed chocolates, and the delivery of same-day pickings from farms thousands of miles away. Nothing will ever be the same.