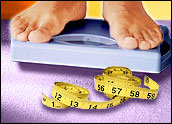 You've seen the ad a thousand times on the Internet: "1 Tip for a Tiny Belly" says the hand-lettered headline above the crudely drawn swelling-and-shrinking belly. "Cut down a bit of your belly everyday following this one weird tip," it goes on to say.
If starvation caused by having funds continuously siphoned from your bank account counts as a weight loss program, then maybe the ad lives up to its claim. But otherwise, no, it's a scam, according to the FTC.
"The recent actions of the FTC against a number of ad scams relating to diet and weight loss products is the latest in a long line of such actions," Steven J.J. Weisman, an attorney and senior lecturer at Bentley University, told the E-Commerce Times.
And yet, the "1 Tip for a Tiny Belly" fraud continues to this very day.
"Unfortunately, little that the FTC has done has discouraged the scam artists from continuing to advertise such products that the public too often falls victim to," Weisman said.
How the Scam Works
The "one weird tip" to this story is that the ad is tied to a nest of scammers — not just one. And it's not a gang of criminals who work together or even a loose-knit group of scammers who coordinate with one another, waiting politely for their turn to milk the next victim.
Nope, it's just a bunch of folks who figured out that weirdly swelling belly consumes a lot of victims everyday. And like all bottom-feeders, they congregate for a gluttonous orgy where the most victims lay.
Criminals just copy the ad and run with it. Click any such ad and you may end up on a site that sells anything: acai berry, African mango, grapefruit, human growth hormone diets, you name it — but it's still just snake oil.
The FTC says the modus operandi is identical on all of these sites. You click the ad and land on a fake news site where — lo and behold — every reader comment and every news report finds the product really works.
Click on any link there and you end up on what appears to be a manufacturer's site selling the very thing the fake news site just raved about. On this new page, you are offered a free trial. All you have to pay is shipping and handling, so kindly enter your credit or debit card information and your free sample will be shipped right away!
Most readers don't notice the fine print that says that your card can be charged large sums every week or month for an extended period. It is not uncommon for the victim to be billed more than US$100 repeatedly for as long as the scammer can get away with it.
FTC Fisticuffs
"The FTC has been on the warpath against Internet fraud, as its recent law enforcement sweep against the phony news sites attests," attorney Bill Rothbard told the E-Commerce Times. Rothbard is a former FTC advertising enforcement attorney who now specializes in FTC advertising and marketing law in private practice, focusing on online and direct response advertising.
The FTC "has used all the weapons in its arsenal — including raids of the perpetrators' businesses, asset freezes, and multimillion-dollar judgment demands — to send a very strong message that fraud does not pay," he said.
So why haven't the "1 Tip for a Tiny Belly" ads gone away?
Because the ad is used by so many different groups of criminals, lawsuits that stop 10 of them — or even 100 — have no effect on the flood of new criminals who latch onto it — even though the fraud is exactly the same.
In time, the FTC will likely make the ad toxic — the equivalent of a sign that says "Hey Feds, I'm a Crook" — and the ad will no longer be profitable. When that happens, the criminals will not abandon the tactic, though. Instead, they'll just make and replicate a new ad. To help consumers steer clear of such fraudsters, the FTC has postedsafety guidelines and tips on how to spot fraudulent Internet diet ads.
The Media's Role as Fraud Enabler
"ABC, CBS, USA Today, Barbara Walters, Dr. Oz and Oprah do NOT endorse products you see advertised on the Internet," Edgar Dworsky, founder of Consumer World, told the E-Commerce Times.
Yet the fake news sites claim such endorsements. It doesn't help that the ads routinely show up on credible news sites. When consumers click through the ad to the fake news site, they tend to view the two news sites as equally credible. Of course, they are not, but this raises the question of whether credible media outlets share some of the responsibility for aiding and abetting the fraudulent activity.
"Google, as a media placement company, does not, and should not, have the same responsibility for false advertising that marketers have," explained Rothbard. "It does not create the ads and cannot possibly police and be held accountable for the millions of ads that run through its system."
But if Google or any media organization has prior knowledge of a fraud, liability may fall the other way.
"The U.S. Department of Justice certainly thinks so, as evidenced by its $500 million settlement with Google in August," noted Rothbard, "resolving criminal charges that it knowingly accepted and placed ads for illegally imported Canadian prescription drugs."