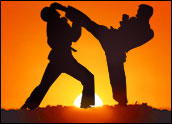 Online Ad Scams, Part 1: Tip for a Tiny Belly and Other Snake Oil
Victims bilked of their money by fake online ads are not the only ones hurt.
"Blatant fraud, like the fake-news diet promotions and other online scams that have sprouted in recent years, only serves to undermine consumer confidence and eventually marketers and business as a whole," attorney Bill Rothbard told the E-Commerce Times. Rothbard is a former FTC advertising enforcement attorney who now specializes in FTC advertising and marketing law in private practice, focusing on online and direct response advertising.
"For the Internet to achieve its full potential as a commercial medium, it's essential that the online direct response marketing industry establish a clear set of best practices and an effective program of self-monitoring and self-regulation," he added.
However, it is also important for consumers to remain vigilant and protect themselves against fraudulent online ads that steal cash and identities every day.
Spotting a Fraud
Spotting a scam ad is exceedingly difficult to do. The scammers go to great lengths to appear credible.
"One should understand that any scam is a business — yes, a dirty business, but still a structured unit consisting of marketing, IT, and social media teams that work hard to trick you," John White, founder of BestEssayHelp, told the E-Commerce Times.
You can do some preliminary checking by consulting legitimate websites, such as whois.org, that tell you who owns the domain of any given website.
There are many public lists of known spammers that can be found using any search engine or by reviewing a government agency's website, such as the Federal Bureau of Investigation (FBI), the National White Collar Crime Center (NW3C), and the Bureau of Justice Assistance (BJA) for such lists.
"Yes, a new spammer could come out and reach you before the lists show them as a spammer, but the converse is true — if they're on the list, it's probably spam," Matthew Stern, president and chief client advocate of The CIO Source, told the E-Commerce Times.
"Go to mxtoolbox.com, click on 'blacklists,' and enter the URL of the link," he said. "98 percent of the time, this should do it."
Search engines can also be helpful in identifying some scam ads — by turning up complaints, articles exposing frauds, and planted testimonials.
"If you see an ad with testimonials, google a unique phrase from one of the testimonials and see if it pops up on a different website, with a different date and different author," Edgar Dworsky, former assistant attorney general in consumer protection in Massachusetts and founder of Consumer World, told the E-Commerce Times. "If so, the testimonial is fake."
The FTC has also posted guidelines to help consumers spot fraudulent ads.
Protect Yourself
The first thing consumers should do when they discover they have been duped by a fraudulent ad is contact their bank and stop current and future payments.
"If you fall for a scam, ask your credit card issuer for a chargeback — to, in essence, reverse the charges," said Dworsky. "Do this in writing to protect your rights under the federal Fair Credit Billing Act. Reasons for requesting a chargeback include not receiving the merchandise ordered, being charged more than the agreed upon price, etc."
Since scammers often sell your credit card or debit card information, ask the bank to issue you a new card immediately so that nothing else will hit your account.
Once you have stopped payment, report the fraud to the FTC. The FTC has conveniently placed links for help in dealing with various types of fraud and nuisances on one page. Note that the FTC has also listed a warning about scam emails that appear to be from the FTC saying your business has been reported for fraud. If you receive such an email, don't open it. Instead, go to the FTC site and follow instructions there.
If you think you may have downloaded malware, see OnGuardOnline.gov for help from the FTC.
You should also report the fraud to the Internet Fraud Complaint Center (IFCC).
"The IFCC reported in 2009 that over $560 million had been lost to Internet scams and frauds," said Guillaume Lovet, senior manager of Fortinet's EMEA Threat Response Team.
"The IFCC celebrated its 10th anniversary in May 2010. and six months later the organization received its 2 millionth complaint," he added. "These statistics, coupled with the fact that there are more than 2 billion people connected to the Internet today, necessitate the need to educate people on the types of cyberscams we're seeing in our labs on a daily basis."
Educating the public about cybercrimes requires the public to share information with the appropriate agencies, noted Lovet, so word gets out faster and the agencies can investigate faster.
Next, report the fraud to your state's office of consumer protection. Many states have become aggressive in policing such fraud and often will send the state's bureau of investigations (a state version of the FBI) to investigate and prosecute.
Most of the agencies will also explain any steps you should take after reporting the incident.