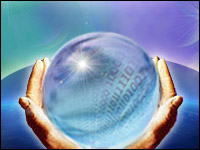 It is that time of year again — namely, prediction-making season. Gartner is the first out of the gate with its top 10 strategic tech trends for 2013 and a few years beyond, released this week at its Gartner Symposium/ITxpo in Orlando, Fla.
Following is a summary of Gartner's take on the trends to watch.
1. Dominance of Mobile Devices
The mobile phone will overtake the PC as the most common Web access device worldwide. By 2015, more than 80 percent of the handsets sold in the developed world will be smartphones.
For enterprises, this means no longer being able to standardize on a single platform — i.e. Windows — but having to accommodate a variety of IT environments.
2. Shift to HTML5
For the next few years, a variety of mobile development tools will remain popular.
Gradually, though, there will be a shift away from native apps to Web apps as HTML5 becomes more capable.
3. Growth of the Personal Cloud
Consumers will start to store more and more digital content in the cloud as opposed to on a PC.
The personal cloud will be the glue connecting a variety of devices. As a result, mobile device management will become more important.
4. Growth of Private Enterprise App Stores
By 2014, many organizations will deliver mobile applications to workers through private application stores.
The role of IT will shift to that of a market manager providing governance and brokerage services.
5. Rise of the Internet of Things
The Internet will expand to touch upon physical items such as consumer devices and physical assets — think cars or prescription drug containers.
Technologies that support this trend include embedded sensors, image recognition technologies and NFC payment.
6. Emergence of Internal Cloud Services Brokerage
IT departments are increasingly coordinating multiple activities — with cloud computing at the top of the list. Hence, the growth of a role Gartner calls "internal cloud services brokerage."
It is emerging as IT organizations push to improve the provisioning and consumption of cloud services for both staff and employees.
7. Shift in Storing Strategic Big Data
Big Data is becoming more of an enterprise focus than just one-off individual projects.
Organizations are abandoning the concept of a single enterprise data warehouse and moving toward multiple systems consisting of content management, data warehouses, data marts and specialized file systems tied together with data services and metadata.
8. Advance of Actionable Analytics
As performance improves and costs go down, companies can afford to use analytics to guide just about every business decision.
There will be an even greater push in this direction as more mobile capabilities are added to the mix.
9. In-Memory Computing
This technology can reduce the execution of certain-types of batch processes to minutes or even seconds — allowing them to be provided as real-time or near real-time services delivered via the cloud.
Numerous vendors will deliver in-memory-based products over the next two years and push this trend into mainstream use.
10. Integrated Ecosystems
The industry is moving away from loosely coupled heterogeneous approaches and toward more integrated systems and ecosystems.
The demand for lower costs and ease of use, not to mention better security, is driving this trend.
On the Money?
Few would argue against the fundamental assumptions underlying most of the predictions: mobile growth, check; cloud computing, check. They are, in short, on pretty much everyone's lists of emerging technologies.
However, some of the details Gartner provides do spark debate.
The prediction that mobile devices will surpass PCs by next year, for example, drew a skepticism from Gabe Donnini, data solutions engineer at Chitika.
"The majority of Web use comes from people at work using their PCs, and when they go home again, they usually log onto their PCs," he said. "Yes, second screen use is increasing, but to say it will overtake PCs would mean a radical shift in a short period of time of how people work. I don't see that happening."
Some of the predictions, though, are spot-on, as far as Donnini is concerned — such as the growth of actionable analytics. "On a global scale now, we are seeing businesses having to cut costs — make key decisions with tight resources. They will, if they aren't already, be relying on analytics to help make these decisions."
About the Tablet
For those who don't agree with Gartner's current take on the tech world, relax. Predictions have a tendency to not pan out — and this is hardly limited to Gartner.
"Remember ATM? The token ring local area network? These were supposed to supersede the Ethernet not that long ago," Laura DiDio, principal with ITIC, told the E-Commerce Times. "We know how that turned out."
At the same time, there have been trends that analysts have missed, such as the dominance of the tablet after it was remade by Apple.
"No one, I mean no one, ever imagined it would take off the way it did," said DiDio, "and then revitalize what had been a stagnating form factor."