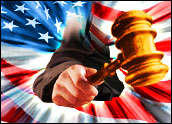 Samsung's legal battle against Apple took another hit Friday after a preliminary decision from the International Trade Commission preliminary ruled Apple did not infringe on four of Samsung's patents.
Samsung filed its original complaint regarding five mobile device patents about a year ago, asking that Apple products violating five of Samsung's patents be removed from shelves in the US. The complaint was then whittled down to four patents regarding wireless transmissions, CDMA systems, smartphone dialing and interfaces with digital documents.
ITC Judge James Gildea made the initial decision on the case, ruling that Apple was not guilty of infringement. The six-person ITC commission will review his findings and give a final ruling.
Neither Apple nor Samsung responded to our request for comment on the story.
Sparring Partners
The decision comes just weeks after another blow for Samsung in a high-profile IP spat in a California court. The South Korean company was ordered to pay Apple more than US$1 billion in damages after a jury found Samsung guilty of infringing on Apple's patents.
"With Apple's dodge here and the billion plus for damages recently, Apple is on a roll," Ray Van Dyke, technology consultant and patent attorney in Washington, DC, told the E-Commerce Times.
In the ITC case, no damages can be awarded, but it could block key Samsung products from hitting US shelves. That alone could be a key victory for Apple as the two tech powerhouses compete for leadership status in the crowded tablet and smartphone markets. Apple's iPad is the far-and-away bestseller in the tablet category, but Samsung smartphones that run on Android's operating system often outsell the iPhone on the global market.
"The ITC cannot award damages, and can only issue an exclusion order, which can be used to prevent infringing products from entering the country," Chris Rourk, partner at Jackson Walker, told the E-Commerce Times. "So, if Samsung ultimately loses, it will not get an exclusion order, but it can also assert its claims in district court."
How Much More?
The two are due back in court next week as Samsung fights another US injunction on the Galaxy Tab 10.1. While both sides seem to be happy to keep swinging at each other in courtrooms across the globe, it's unknown how long they will keep going.
While Apple has scored some significant wins in the courtroom, those decisions won't be able to completely wipe out the South Korean company from the mobile device market, said Rourk. Samsung will most likely still be allowed to compete in the US with workaround versions of the infringing devices, he said, and Apple hasn't been as successful in its legal efforts against Samsung outside the States.
"If the litigation-related costs do not cause product sales to become unprofitable, and if neither company is able to completely block the other out of a market, they may eventually forgo patent litigation or agree to cross-license their patents," said Rourk.
With legal costs not getting any cheaper, the two sides might be thinking about putting an end to some of the battling, said Van Dyke.
"Apple's win here removes any worry of an exclusion," he said. "Samsung's Hail Mary pass was incomplete. The two combatants are likely weary of their global fighting, and should settle soon."