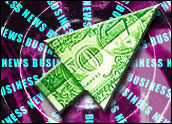 Global IT spending will reach US$3.8 trillion this year, Gartner predicted this week, representing a 3.1 percent increase over spending in 2013, which clocked in at $3.7 trillion.
The rate of growth between 2012 and 2013, by contrast, was a negligible 0.4 percent.
Among the winning categories for 2014 are devices including PCs, ultramobiles, mobile phones and tablets. Now predicted to grow by 4.3 percent this year, the device category contracted in 2013 by 1.2 percent.
Enterprise software spending, meanwhile, will be strong as well this year, according to Gartner, which foresees the 2014 annual growth rate in that category rising by 6.8 percent, driven in part by strong demand for CRM and supply chain management applications.
A Downward Revision
Last quarter, Gartner's forecast for 2014 IT spending growth was 3.6 percent, but the company has since revised that projection downwards.
The main reason behind that change was a revised projection of telecom services' growth in 2014, said Richard Gordon, managing vice president at Gartner. Telecom services account for more than 40 percent of IT spending, and Gartner revised its growth forecast for that category from 1.9 percent to 1.2 percent.
"A number of factors are involved, including the faster-than-expected growth of wireless-only households, declining voice rates in China and a more frugal usage pattern among European customers," Gordon said.
Gartner's data center systems spending growth outlook for the year was also trimmed — to 2.6 percent, from its earlier prediction of 2.9 percent — due to a reduction in the forecast for external controller-based storage and enterprise communications applications.
IT services was another category that was downwardly revised. In this case, Gartner trimmed the sector's compound annual growth rate between 2012 to 2017 to between 4 and 5 percent as a result of outsourcing and a growing number of companies moving to cloud computing.
What It All Means
Now companies have to make use of this data. As one example, consider the projected growth in device spending, Jeff Echols, senior director of product marketing and business development at CommVault, told the E-Commerce Times.
Companies had best be prepared to fulfill the information management needs of these new device users in the home and especially the workplace, he said.
"Companies realize that employees want to use their own devices, but concerns about securing data and deriving more business value from it are still prevalent and growing," Echols explained. "The simultaneous rise in the importance of protecting data on laptops, tablets and other mobile devices will take center stage in 2014."
Now multiply these ripple developments by the number of categories and it becomes clear the tech industry is in for widespread change, despite the incremental uptick in spending growth.
"The future of enterprise technology remains bright, but it is not the overall spending growth that is fueling the current excitement," Luke Burns, a partner with Ascent Venture Partners, told the E-Commerce Times.
Instead, Burns points to key developments that have occurred in the past 12 months, such as mobile surpassing the desktop as the most common Web access point and nearly half of enterprise workloads being processed in the cloud.
"Over the next decade, the enterprise IT market will be overhauled by these disruptive trends, providing abundant opportunities for innovative new providers to step up, gain market traction and grow into market leaders," he said.
Adapt or Die
New mobile devices will further increase the need for enterprises to develop integrated and safe mobile strategies, Joel Oleson, director of marketing and technology evangelist for ViewDo Labs, told the E-Commerce Times.
Companies not prepared to adapt will be hurt, Oleson warned.
"IT spend is very different from what it has been," he explained. "Today, the need is so much less about deployments and more about integration and migration."