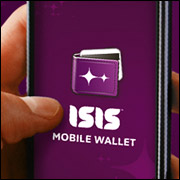 Isis, the mobile wallet joint venture of AT&T, Verizon Wireless and T-Mobile, has announced partnerships with Chase and American Express in preparation for its debut later this year.
Isis lets Chase cardholders with NFC-enabled smartphones tap their mobile devices in order to pay at participating retail locations, rather than having to use a debit or credit card.
Chase has been working with Isis to test mobile payment options using near field communication technology in Salt Lake City, Utah, and Austin, Texas. The company was encouraged by the trial's success.
Based on responses in those markets, Chase said Monday it would continue the rollout nationwide.
No Credit Required
The news comes a few days after American Express revealed its plan to launch a mobile payment application — American Express Serve — on the Isis platform. With the cobranded account, American Express customers will be able to tap and pay at retail locations, as well as pay bills online and transfer money between accounts.
Although it would be an alternative to a debit or credit card, American Express Serve could be funded from existing accounts or through a direct deposit option. The service would appeal especially to the 70 million Americans who do not have bank accounts or access to credit, according to American Express.
Instead of having to rely on cash for large payments, or having to send large sums of cash to friends and family, those tasks could be performed safely and easily using the American Express Serve app.
Isis did not respond to our request for further details.
Trouble With Adoption
Though Isis has secured partnerships with major U.S. banking players, it still faces challenges from other industries that are critical to NFC adoption, said Greg Smith, an analyst at Sterne Agee.
For one, no major smartphone makers, including Apple, have featured NFC technology prominently in their devices, and they haven't put many resources into strongly marketing the phones that are equipped with the technology, he said.
Even if the smartphone makers had flaunted that functionality, the technology isn't any good without retail partners. Isis is not the only mobile payment initiative fighting for those retailers to add point-of-sale terminals. Companies like PayPal and Square have experimented with mobile payment apps, and all are fighting for retailers to back their mobile wallet options.
"Mobile payments are in a holding pattern," Smith told the E-Commerce Times. "They've had limited traction gained over the past year due to significant fragmentation among the key players as well as the lack of compelling incentives for merchants and consumers."
Changing Times
Isis' new partnerships alone won't be enough to help the mobile wallet app be the next big thing in the smartphone space, said Michael Cote, president of the Cote Collaborative. However, support from Chase and American Express could be one factor that helps the app grow. Upcoming devices that offer NFC capabilities beyond tap and pay may also spur interest.
Beyond making payments, Isis will allow consumers to redeem coupons and present loyalty cards using their mobile devices. It could become more popular with retailers as they refine methods of targeting consumers based on their location — for instance, offering a coffee discount at a favorite spot during a morning commute.
"There will be a number of new phones launched before the end of the year that include NFC," Cote told the E-Commerce Times. "Most of these launches will focus on NFC as a technology that enables activities beyond mobile payments. NFC allows for improved access, authentication, pairing and sharing."
Those applications might not be enough to help Isis with short-term gains, but the potential for long-term growth is strong, he added.
"NFC is a great mobile payment technology," said Cote, "but it's even better should it become ubiquitous."