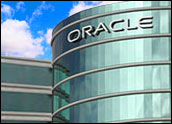 Oracle is intent on expanding its offering of Software as a Service applications, according to press reports including an account in the Wall Street Journal. Specifically, it is planning to offer seven new products in a SaaS environment — a move that would significantly enlarge its already substantial SaaS footprint.
What's surprising is that it hasn't taken steps to expand its SaaS portfolio before now.
"Oracle has been in this business for a long time — certainly with CRM On Demand," Rebecca Wettemann, VP of research at Nucleus Research, told the E-Commerce Times. "It is natural that Oracle would look to further support both large and small customers in this way."
Oracle declined to comment for this story, spokesperson Susie Penner told the E-Commerce Times.
Human Resources to Product Management
Oracle's new product lineup will stretch across a range of enterprise operations, the news accounts suggest, from human resources to product management. It will include sector-specific plays, such as an application targeting the insurance industry, for example.
Software as a Service has become nearly ubiquitous; if a company uses software, it can probably find a SaaS version of it for any industry. Oracle's entrance into any or all of these sectors — considering the heft of its balance sheet and the sheer enormity of its computing and IT knowledge base — is bound to result in some industry disruption.
Oracle has particularly strong bona fides in the human resources space, thanks to its acquisition of PeopleSoft several years ago, Yankee Group analyst Sheryl Kingstone told the E-Commerce Times. "That would be a likely place for it to start."
Whither Oracle On Demand?
While an overall SaaS offensive appears to be a logical strategy for Oracle, its rumored plans to expand its CRM SaaS line are puzzling. Oracle has a fairly solid offering as it is, thanks to its acquisition several years ago of Siebel — and, by extension, Siebel On Demand.
"Oracle is in very good shape with its CRM SaaS offering," said Wettemann. "There are no big gaps or holes in its functionality."
Indeed, Oracle has steadily enhanced the offering with upgrades to the flagship application as well as small, plug-and-play Web 2.0 tools.
The Oracle Sales Prospector, for example, recommends prospective leads, rates the likelihood they will close, and then aggregates the data in a single repository so that sales reps can benefit from shared information.
Oracle Mobile Sales Assistant is a mobile app add-on with features designed to make life easier for the road warrior — such as getting driving directions to an appointment via PIM (personal information management).
Another example is the Deal Management module, which helps sales professionals identify and negotiate the most profitable price during the deal process.
Oracle may continue along this path with the rollout of more such modules; however that approach has its share of critics.
"I haven't seen a lot of user adoption of [these], but I think market is still trying to figure out where they make sense," Wettemann said.
The Sun Factor
The wildcard is Sun Microsystems; Oracle will be acquiring Sun for $7.4 billion. Although it is unlikely to wring out synergies or additional functionality from the acquisition in the immediate term, a deal of that size, once successfully digested, is certain to touch upon just about every strategic initiative Oracle takes — including its SaaS path.
"Oracle is trying to corner the market on everything," Kingstone said, "so becoming a one-stop shop for cloud services and infrastructure — something that Sun Microsystems can definitely assist in — is not out of the question."
In particular, Sun can help Oracle position itself as a provider of private cloud computing — an area that IBM has staked out for itself.
Indeed, "single instance in cloud computing is something that Siebel — now Oracle — has been talking about for at least a few years," noted Kingstone.