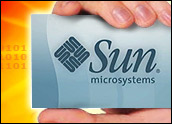 Sun Microsystems has reported a US$201 million loss for Q3 2009, a significant increase over the loss of $34 million that it registered in the same quarter a year ago.
At $2.6 billion, third-quarter revenue fell short of Wall Street's forecast of $2.86 million and was a steep drop from the $3.3 billion the company realized in Q3 2008.
Sun said the decline was a reflection of restructuring charges and a 20 percent drop in sales.
Tough Times
The results are a sign of the times, according to Charles King, principal of Pund-IT.
"It has been a tough time in the server business in general, and Sun has been one of the weakest players over the past two, three quarters," he told the E-Commerce Times. "So, having them take a dip of this size is almost understandable."
Indeed, a look at the report's line items gives a clear indication of why Sun Microsystems has been unable to stanch the bleeding.
Many of Java's key customers are in the financial services industry, which have been hit hard by the global financial crisis, Frederic Ruffy, senior options strategist at WhatsTrading.com, pointed out. "For the third quarter, Java reported a loss of 7 cents per share, which was not as bad as the 19 cent loss analysts had expected."
In addition, Sun's proprietary chip, called "Sparc," is losing ground to competitive x86 products from Intel and AMD, he said. "Billings for high-end systems using Sparc chips fell 28 percent."
Sun Microsystems did not hold a conference call or offer any additional comment.
Whither Oracle?
Although the numbers are understandable, they raise questions about Oracle's short-term strategy. Earlier this month, Oracle announced it would buy Sun in a cash deal for $7.4 billion, or $9.50 per share. In the long run, Oracle expects the deal not only to boost its earnings but also to solidify its position as an IT powerhouse in both the hardware and software markets.Sun shares were down 3 cents to $9.13 after the report was released, Ruffy observed — not too far from Oracle's buyout offer of $9.50 per share.
The earnings report had little impact on the share price because the acquisition price has not changed, said Ruffy. "Shares are 4 percent below the proposed buyout offer price, which reflects a bit of uncertainty, but that is not unusual."
The deal is expected to close this summer.
The numbers are unlikely to have shaken Oracle, which is awash in profits right now, suggested Pund-IT's King. "It can absorb a $2 million to $3 million loss from Sun for the next couple of quarters without hurting too badly."
That said, Oracle is going to have to move forcefully to stop the bleeding, he said, "and at this point, with a company like Sun, the way to do that is to restructure."
This summer is not going to be a good time to be an employee at Sun Microsystems, King predicted.
Surgical Strikes
Still, it's unlikely Oracle will be brutal about it, King added, if only because it wants to hang onto Sun Microsystems' customer base.
"The biggest issue moving ahead for both Sun and Oracle is to come up with plan that succeeds from the sales perspective, but also reassures the company's clients that the acquisition is not going to be an excuse for complete bloodletting," he explained. "The last thing you want to do is give customers an excuse to talk to the competition."
It is all but guaranteed that HP and IBM will be looking to leverage such opportunities, enticing Sun Microsystems' customers with special offers and talk of diminished capabilities at the acquired Sun. Having already made similar acquisitions, including PeopleSoft and JD Edwards, Oracle knows all about that.
"Traditionally, companies have not played favorites among the hardware vendors," King noted, "but the acquisition of Sun might put those relationships into jeopardy" — or, at the very least, create some questions that Oracle will have to answer carefully.