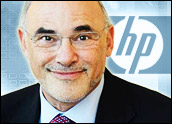 Just over a year after taking the job as HP's top executive, CEO Leo Apotheker may soon be unceremoniously escorted to the door.
The company's board of directors is reportedly meeting on this and other issues this week. The board is said to be eying former eBay CEO Meg Whitman as a replacement. Whitman clocked in 10-plus years of strong executive leadership at the online auction company.
HP did not return a request for comment in time for publication.
Though the reports remain unconfirmed at press time, it isn't difficult to see why the board may want a change in direction. The company's stock has dropped significantly since Apotheker took over. The market was also stunned by its about-face weeks ago as it announced it was shuttering its webOS hardware business and mulling a sell-off or spin-off of its PC division.
Another Leak at HP
What is not so easy to see is how these deliberations were able to go public — unless leaking these talks was a deliberate move, said Rob Enderle, principal analyst at the Enderle Group.
"HP is under massive investor pressure as a result of the precipitous drop of its stock price, and having boards discuss alternatives isn't unusual," he told the E-Commerce Times.
"What is unusual is the degree in which these discussions appear to be leaked to the media. It suggests that there is an agenda inside of HP to displace Apotheker either by someone who was passed over when Leo was selected or someone that is acting on their behalf."
That said, even if the leaker — and news reports have cited several sources — is acting independently, he or she is not acting in a vacuum. Something clearly must be done at HP, N. Venkat Venkatraman, a business professor at Boston University, told the E-Commerce Times.
It is clear is that HP is lacking in strategic clarity, he said. "Is it truly reorienting to be a B2B company competing against IBM, Oracle and SAP with a mix of software and services? If so, then the PC business spin-out could have been finalized before making the announcement."
Simply put, he said, HP is a big PC company, and it could have been in much stronger position to negotiate price premium for it without making its intent public.
Venkatraman also noted that HP's stock price had been languishing — until rumors became public that Apotheker may be on his way out. Then the market reacted, at one point driving the stock up 8 percent, he said.
That this happened based "on the mere rumors that the board may act shows that the vision that Leo has laid out is unconvincing and unexciting to the investors."
'Whitman Is a Decent Choice'
Whitman would be a decent choice as Apotheker's replacement, Venkatraman opined.
"Meg Whitman is known for her business-building — something that HP desperately needs at this time," Billie G. Blair, president and CEO of Change Strategists, told the E-Commerce Times. "Frankly, I think it would be a good move. Meg has the gritty ability to push change through; HP seems to be floundering a great deal with these concepts."
In fact, Blair went on to say, "I actually think that if something is not done that is rather immediate, HP runs the risk of going down the tubes — as drastic as that sounds."
Certainly HP is facing significant competitive pressure right now from entities such as Apple as well as cloud- and Web-based products, Sandy Smith, a partner with Womble Carlyle, told the E-Commerce Times.
"It would not be a surprise to make another big change; it would certainly not be as surprising as in many companies," Smith said.