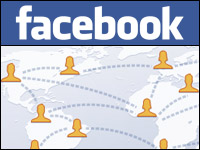 The Facebook IPO guessing game has moved into high gear. The latest rumor puts the big event within several weeks, possibly as soon as December. This new timeline was reported by Business Insider, which cited an email from a source it said was close to Facebook employees.
Statements from CEO Mark Zuckerberg have put the rumor mill at the social networking firm into overdrive, with Facebookers expecting an S1 filing to be made within six weeks, according to the source.
Facebook has previously said it will reach the 500 shareholder limit for private companies at the end of this year, forcing it to disclose its financials no later than April 2012, according to Securities and Exchange Commission regulations. It was widely assumed that Facebook will just go forward with an IPO at that point, if not sooner.
Whether Facebook is going to pull the trigger before year's end, though, is more questionable. Even Business Insider has doubts, noting that another of its sources says the company hasn't even selected a bank to underwrite the offering.
Facebook did not respond to a request for comment by the E-Commerce Times in time for publication.
Zuckerberg's Reluctance
Momentum, though, is growing — and is now perhaps strong enough to push past Zuckerberg's widely recognized reluctance to take the network public.
Zuckerberg has been holding off on going public largely because he doesn't want the distraction or the regulatory headaches yet, Rob Enderle, principal at the Enderle Group,told the E-Commerce Times.
"However, investors are likely looking to pull their profits, and with the latest Internet IPOs going surprisingly well, I expect the pressure to go public is impressively high at the moment."
$100 Billion and Counting
An early 2012 timeframe was suggested when Goldman Sachs invested US$500 million in the company at the beginning of the year, said N. Venkatraman, a business professor at Boston University. The talk at that time was a Facebook valuation of $100 billion. Since then, of course, the economy has deteriorated and the market has become more volatile.
That said, "LinkedIn and Groupon have not done so badly," he told the E-Commerce Times.
Antsy Facebook Talent and Their Restricted Stock
An IPO may soon become essential if Facebook wants to retain its talent, he continued, "especially those engineers who received restricted stock that could only be sold after the IPO. Facebook's vision of creating a social layer across online and offline is bold and big, but that vision requires talented engineers who can rapidly create powerful functionality to interconnect the various activities of 1 billion-plus members."
If Facebook fails to attract and retain engineering talent over the next two years, it will fail in its vision, Venkatraman said.
"So timing of IPO will be dictated by the compelling pressures from the talent dimension rather than maximizing the first-day IPO," he explained. "Facebook is in this for the long haul, and I doubt that the current investors are clamoring to sell their stock. It is more about providing liquidity for the top engineers whose compensation is largely in Facebook stock."
A Post-public Facebook
Other than a group of extremely happy Facebook employees, a post-public Facebook is not going to make much difference to its end-users or advertisers, Enderle said.
"Clearly being a public company would change the rules the firm would be operating under," he said. In fact, as a public company, Facebook might be less likely to make big mistakes for fear of harming its valuation.
"As a result it might actually become a bit more steady," Enderle added.