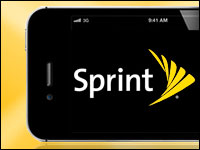 Sanford C. Bernstein has downgraded Sprint Nextel to underperform from market perform, citing concerns it won't sell enough iPhones to pay for its "punishing" commitment to Apple.
Worse, from Sprint's perspective, is that there's a strong chance Sprint may have to declare bankruptcy at some point, Bernstein analyst Craig Moffett said in a research note.
Shares in the company dropped by 4.5 percent after its release.
The Risks Sprint Faces
Moffett took pains to say he was not predicting Sprint would declare bankruptcy — rather, that it is a legitimate risk facing the company and one that is growing.
Sprint is facing a two-fold challenge, he said: its burdensome contract with Apple; and its hobbled 4G capability. In addition, the company has been laboring under a heavy debt burden, which means finding a solution to either problem will not be easy.
The LTE Issue
Sprint is lagging behind the leading wireless providers in the market, AT&T and Verizon Wireless, in its deployment of a 4G network. It buys 4G WiMax coverage from Clearwire, but it is moving away from that arrangement. It plans to build out its own network over the next two years, in a project estimated at $10 billion.
Sprint is clearly not going to gain any 4G capacity from LightSquared, Azita Arvani of the Arvani Group told the E-Commerce Times.
"With LTE gaining momentum — with both Verizon and AT&T expanding coverage — this clearly is a competitive issue for Sprint," she said.
What's more, the release of a new iPad that supports 4G LTE wireless spotlights the need for LTE coverage more than ever before, she added.
Sprint's deal with Apple to offer the iPhone is a major problem, in Moffett's eyes. Offering the iPhone will cost Sprint $15.5 billion over the next four years, he pointed out. And in the hope of gaining an edge on AT&T and Verizon, Sprint is offering more generous data usage terms, which will limit its financial wiggle room even further.
Of the two issues highlighted by Moffett — the lack of a robust LTE network and its contract with Apple — theits network shortcomings pose the greater risk to Sprint right now, Arvani said.
"Whether the combination of all these factors will result in bankruptcy for Sprint, I cannot say, however," she concluded.
Moffett did not respond to our request for further details, and Sprint did not respond to our request to comment for this story.