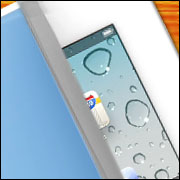 Tablets are now a solid fixture in the mobile ad ecosystem, according to a new report. However, the format hasn't been fully exploited yet, in spite of the tablet's strong presence in the mobile world, thanks to Apple's iPad.
Non-phone mobile devices — primarily, tablets — accounted for 20 percent of all impressions for Q1 2012, compared to 15 percent in the first quarter of 2011, according to Millennial Media's latest mobile advertising report.
Tablets Equal Engagement
Tablets are an ideal channel for advertisers, because consumers are more willing to watch premium, long-form content on such devices, said Caitlin Spaan, VP of marketing at Ooyala.
"Tablet viewing is more akin to TV viewing than to smartphones — people are happy using them for catching up on TV series and watching feature-length films," she told the E-Commerce Times.
Tablet viewers are far more engaged overall, she added, Ooyala data suggests.
"Specifically, in Q4 of 2011, our Video Index report showed them to be 45 percent more likely to complete at least 75 percent of a video they started watching — a reliable measure of engagement. And we're seeing time spent with video on tablets increase quarter-over-quarter in terms of the average length of videos viewed."
There is a good reason for that.
"Tablets, unlike traditional PCs, are still largely used for leisure, which means ads should have higher conversion rates per view than they do on PCs," Rob Enderle, principal of the Enderle Group, told the E-Commerce Times.
"This means tablet users are more likely in a shopping and buying mood," he explained, "and what they are consuming is likely closer to their personal interests — so related ads hit more willing readers."
A Dearth of Creative Formats
There is a dearth of creative formats for tablets, though, despite the wild popularity of the iPad.
"The need for more intelligent and optimized ads is becoming critical," David Hewitt, global mobile practice lead with SapientNitro, told the E-Commerce Times.
Traditional desktop display ads have worked as a band-aid for tablets thus far, but touch-friendly and context-aware ads are becoming expected by tablet users, he said.
The number of video ads is rapidly increasing. However, even this format is not used as often as it could be, Torin A. Dorros, an attorney in Michelman & Robinson's advertising, marketing and media department, told the E-Commerce Times.
"While in many cases the tablets are running nearly identical operating systems as their smartphone counterparts, and both allow for consumers to have immediate access to a vast array of media options," Dorros noted, "as yet the advertisers have not fully exploited some of the key benefits of tablets, such as their increased screen size and often better video capabilities."
Mobile Phones Still Important
None of this is to suggest that mobile ads aimed at smartphones are lessening in importance to marketers. Apple's iPhone remained the leading individual mobile phone for Q1, the Millennial Media report noted, and 14 of the top 20 mobile phones ran Android.
In fact, Android was the top overall operating system on the company's platform, with a 49 percent share of impressions, it said.
In some ways, designing ads for a mobile device can be a trickier proposition, Robert Carroll, CMO of SDL's Web content management division, told the E-Commerce Times.
"Because mobile phones have become practically an extension of one's body, they have the potential to either delight customers with news of a new product or a sale," he pointed out, "or leave them feeling irritated that their privacy and personal space has been invaded with irrelevant offers."
When using this channel, advertisers and marketers must be especially careful to make sure that the content of the mobile ad is relevant, Carroll said.
Post-Click Engagement
Conversely, a mobile ad campaign that resonates with users has the capacity to become more than just an image or video on which consumers click, said Jeff Hasen, CMO ofHipcricket and author of Mobilized Marketing: How to Drive Sales, Engagement and Loyalty Through Mobile Devices.
An emerging best practice for mobile marketers is to create opportunities for consumer activity that goes beyond a one-time response, he told the E-Commerce Times.
"For example, companies like HBO have worked with Hipcricket to conduct mobile advertising campaigns that ultimately invite customers to take part in, say, a VIP club. It's one thing to get consumers to click on your ad," said Hasen. "It's another thing entirely — and much more critical — to do something with them once they do: the concept of 'post-click engagement.'"