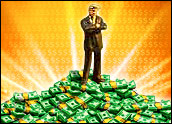 Why is question-and-answer website Quora so popular with investors?
"Because of the high quality of the discussions on the site," answered Paul Levinson, professor of communications and media studies at Fordham.
That certainly is one valid opinion, but to get a true expert take on the matter one would have to consult Tiger Global Management, which led the Series C venture capital round that brought in US$80 million to a company that has yet to claim a profit. Four existing Quora investors — Benchmark, Matrix Partners, North Bridge Venture Partners and Peter Thiel — also are participating in the fund raising.
This follows a Series B round that raised $60 million in 2012. The latest capital infusion reportedly puts Quora at a $400 million valuation.
This round reportedly was initiated by Tiger Global, which approached Quora about the funding.
Even though it didn't need it the cash, Quora decided to take it as a cushion against unforeseen events and to ensure the site's performance, Marc Bodnick, head of Quora's business and community teams, told reporters.
Bodnick emphasized Quora was not looking to be acquired — "ever."
A Quality Site
For the uninitiated, Quora is a site where users can post and follow questions on certain topics — anything from technology, for example, to dating and relationships — and receive answers from experts in the space. There is a heavy social component to the site, which encourages people to follow friends. The site is actively edited and monitored for quality.
Quora staff removes not only run-of-the-mill spam, but also jokes.
"In a discussion about time travel, for example, someone asked what the best thing would be for a time traveler to take on a trip to the past," Levinson told the E-Commerce Times. "I answered: 'a watch.' My comment was removed because it was deemed to be frivolous."
Levinson wasn't offended. It signaled to him "that people who come to Quora can rest assured of serious comments in all discussions."
Quality content for social media is highly valued by investors in general, and Quora has accumulated an audience of highly educated and informed users, noted Robb Hecht, adjunct marketing professor at Baruch College's Zicklin School of Business.
"These types of users are a gold mine for advertising seeking to reach and monetize this type of demographic," he told the E-Commerce Times.
"Also, Quora's future is bright because while average users go to Google search for their everyday queries of knowledge, informed users are turning to resources like Quora where key opinion leaders share their insights in very clear and organized ways — which the Quora platform was designed to provide," Hecht continued.
It is possible that many of Quora's users are also investors, he speculated, due to the site's content. "They may turn to Quora themselves to share and learn about investment strategies and opportunities. With their own usage, it's the 'Buy What You Know and Use' strategy in action."
Quora's opportunities for monetization are ripe, Jawabkom founder and CEO Raed Malhas told the E-Commerce Times. Jawabkom, which was launched in January 2014, is similar to Quora but aimed at an Arabic speaking audience.
"We charge our users to get answers from certified professionals," he said. "We also allow our users to get free answers if they take certain actions. I would think Quora could immediately implement something similar, and maybe charge for a few subjects."
Some topics aren't worth pursuing for monetization, he acknowledged, but others — say real estate, health or finances — are.
As for dating and relationship-type topics, those should stay free to ignite conversation and traffic, Malhas said.
"In the future, with their high user-base, I think they should definitely consider launching an advertising platform similar to Facebook's," he added, "that targets users based on demographics and interests."