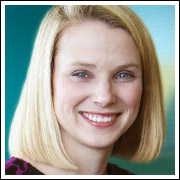 Yahoo on Monday reported quarterly earnings that beat expectations, owing largely to the sale of its Chinese assets and modest growth in some of its core business areas.
The quarterly report was the first for new CEO Marissa Mayer. She left Google to lead Yahoo in July after the sudden departure of former CEO Scott Thompson in May.
Under Mayer, Yahoo brought in net earnings of US$3.2 billion, or $2.64 per share, for the quarter ended Sept. 30, beating last year's $293 million. The sale of half of its stake in Chinese e-commerce firm Alibaba Group accounted for $2.8 billion of those earnings.
Yahoo also showed growth in some of its core business areas. Revenue in search and display each rose 1 percent from the same time a year ago, with search bringing in $473 million and display another $506 million.
Investors seemed to like what they heard on Monday. Yahoo shares rose in after-hours trading and continued to surge by as much as 6.1 percent Tuesday.
Yahoo did not respond to our request for further details.
Long Road Ahead
Despite beating expectations on the quarter, Yahoo still faces challenges in the fiercely competitive online space. The company has struggled through a period of executive leadership turnover and advertisers increasingly turning to competitors Google and Facebook to spend their ad dollars.
One way Yahoo hopes to spark that turnaround is to increase its media presence by improving its search engine, email and other services, as well as covering high-profile events such as the Olympics and the upcoming elections. The company also said it is raising its profile as a mobile hub by developing sports and entertainment apps optimized for use on smartphones and tablets.
As the mobile industry moves away from display advertising, though, Yahoo might find itself struggling to compete in an already crowded space, said Brian Wieser, analyst at Pivotal Research Group.
"We remain highly skeptical that the company can meet or exceed industry growth rates on an organic basis," Wieser told the E-Commerce Times. "The industry's orientation away from premium display advertising is unfavorable for Yahoo. The opportunity associated with mobility is somewhat limited for Yahoo. It can plausibly seek to establish itself as a dominant publisher of mobile display inventory, but this would only amount to hundreds of millions in revenue, not billions."
New Day?
The company is well aware of the challenges ahead. A turnaround at Yahoo will take years, Mayer said.
Growth is possible, though, by continuing to strengthen its core business, said Jeff Kagan, tech analyst and consultant. If it can do that, he pointed out, more positive quarters could be ahead for Yahoo.
"Yahoo is still a strong search-engine business, very similar to what Google looked like several years ago before it started growing into other business segments, making their lives much better and much worse at the same time," Kagan told the E-Commerce Times.
Investors are right to be encouraged by the latest report, said Kagan, even if that's not a sentiment they have felt recently about the Internet pioneer.
"It's been so long since we have seen good news at Yahoo that I don't want to jump in and say things are starting to look better for them," he noted, "but I have to say, things are starting to sound better for them, at least. Now they have to make this into a reality. Keep your eyes on Yahoo. You never know."