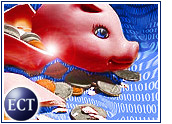 Intershop Communications AG, a European e-commerce software maker, plummeted10 3/64 to 5 5/64 in early trading Tuesday after joining several of its U.S.counterparts in warning of weak results for the fourth quarter and fiscalyear.
The Hamburg, Germany-based company, which also has offices in San Francisco,California, said it lowered its expectations because of a worldwide slowdownin spending on information technology.
Intershop said it expects fourth-quarter revenue of 28 million to 30 millioneuro, with a net loss of 30 million to 32 million euro, or 0.36 to 0.38 europer share. The company said the fourth-quarter slowdown "is not related tocompetitive pressures or the longer-term prospects for e-business softwarevendors."
"We are disappointed with the results for the fourth quarter of 2000," saidchief financial officer Wilfried Beeck. "Several multimillion-dollar salesopportunities that we expected to close in late 2000 have been postponeduntil 2001, especially in the U.S., where we continue to ramp up our salescapabilities."
Added Beeck: "While we've seen continuous growth in Europe, especially in Germany and theUK, revenues in the U.S. and Asia suffered significantly from a marketwidesoftening in technology spending."
The company is also pleased with full-year revenue growth, which will beup about 165 percent over 1999, according to Beeck.
"This revenue growth is much higher than the 100 percent growth we had expected at the beginning of the year 2000," Beeck said.
Chief executive officer Stephan Schambach said the company is optimisticabout the new year. "We believe that companies will re-launch theire-commerce investments during 2001, and we are well positioned in thismarket," he said, noting that Forrester Research recently ranked Intershop'sEnfinity product as the No. 1 e-commerce platform.
"Despite the recentsoftening in IT spending, our product offering remains well suited to ourclients' needs. Our entire management team is now focused on improving theeffectiveness of our sales organization and to bring expenses in line withrevenue projections," said Schambach.