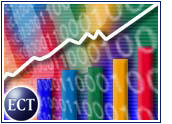 Bluefly (Nasdaq: BFLY) rose 9/32 to 23/32 Thursday after the e-tailer said revenue for the fourth quarter will be about 90 percent above the US$3.04 million seen in last year's fourth quarter.
The New York-based company, which sells designer fashions and home furnishings at discount prices, also expects its average order size and customer base to reach record levels, as customer acquisition costs fall to the lowest level ever.
Average order size should be up 20 percent from the $93.48 seen in last year's fourth quarter, topping the previous record of $100.86, set in the third quarter of 2000.
Gross margin is also likely to top the 24 percent seen in the 1999 quarter, and customer acquisition cost should be better than the third quarter's $57.45, the company said.
Bluefly said the quarter should show more than 36,000 new customers and more than $2.7 million in gross sales from repeat customers.
"This fourth quarter, our advertising budget as a percentage of total revenue will be at its best level ever," Bluefly chief executive officer Ken Seiff said. "In absolute dollars, we will spend approximately 30 percent less on advertising this fourth quarter than we did in the same period a year ago."
Added Seiff: "While the sluggish retail environment may have prevented us from reaching the even stronger record sales that we had hoped for, we believe we have made significant strides and are proud of our results."
Seiff also said that Bluefly has made significant improvements in customer service and fulfillment, with more than 98 percent of December orders having been shipped within one business day.
New "self-help" tools that allow customers to track orders on the Web site have also helped reduce the number of customer service inquiries, he said.