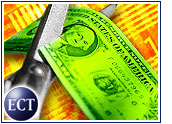 Network Associates, Inc. (Nasdaq: NETA) lost more than half its value Wednesday, plunging 7 1/4 to 4 1/2 after warning of a fourth-quarter loss and announcing thedepartures of three top managers.
The Santa Clara, California-based provider of Internet security softwaresaid it expects a loss before extraordinary items for the quarter of US$130million to $140 million, on revenue of $55 million to $65 million.
For the year as a whole, Network Associates expects to lose $84 million to$94 million before special charges, as revenue totals $742 million to $752million.
The company, which makes the McAfee anti-virus software, said it lowered itsexpectations because of "the decision of key distributors to dramaticallyreduce their inventory levels and by a reduction in fourth quarter demandinduced by a slowing overall economy."
An accounting change will account for about $120 million of the revenueshortfall, Network Associates said.
The company also said Edwin Harper, a director, has taken over as chairman, as BillLarson will step down as chief executive officer and as a director. A searchfor a new CEO is underway. In addition, president Peter Watkins will leavethe company at the end of the year, and chief financial officer PrabhatGoyal will leave as soon as a replacement CFO is appointed.
The news led analysts at several securities firms to lower ratings on thestock, reports said. Tucker Anthony, Chase H&Q, Pacific Crest and AdamsHarkness were said to have cut ratings, and other analysts slashed earningsestimates to reflect the new outlook.
Robertson Stephens had expected the company to earn 31 cents per share onrevenue of $244 million; analyst Dane Lewis is now looking for a loss of 67cents on revenue of just $60 million.
The company plans to report results on January 25th.