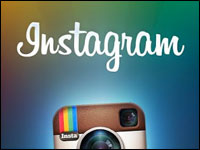 Over the next couple of months Instagram will begin incorporating the "occasional ad" in U.S. users' feeds, the company announced on Thursday.
The ads will include high-quality photos and videos from a few brands that are part of the Instagram community, the company explained. Users will have control over the ads, including hiding the ones they don't like and providing feedback as to why.
Users will also still own their own photos and videos, it added.
Instagram did not respond to our request for further details.
Join the Crowd
Instagram's move comes as more and more "free" social media platforms and offerings are turning to ads to monetize their services.
Earlier this month, Pinterest announced it would begin slowly rolling out "promoted pins" in the coming months. Twitter, of course, has been offering ad products to marketers since 2010 and in its initial public offering filing on Thursday gave more details about its future plans along these lines.
Facebook has been steadily rolling out ad product after ad product for years, with the newest entrant — video ads that will be incorporated into a user's news feed — expected in the near term.
Many consumers, in short, probably expect the ads will follow when a service becomes as widely popular as Instagram's is — and has been acquired by a company of Facebook's size.
On Instagram, the transition could be particularly smooth because many brands are regular participants on the network already.
Top brands with an Instagram account numbered 67 as of May 1, according to Simply Measured — up from 59 on Feb 1. Slightly more than one-third, or 34 percent, of those brands have followers numbering over 10,000.
Some Discretion, Please
Still, Instagram needs to tread carefully if it doesn't want to alienate its users — a fact of which the company appears to be aware.
Instagram should initially target ads only to users who already follow brands on the platform, suggested Ross Sheingold, chief strategy officer at Laundry Service, for example.
"If they've made the conscious decision to follow promotional content, they'll be more willing to engage with and enjoy the native ads that will be served," Sheingold told the E-Commerce Times.
Instagram should stick to its mission of providing visually striking "eye candy" to its users, cautioned Lorrie Thomas Ross, CEO of Web Marketing Therapy.
"If the aesthetics of an account [are] muddied with tacky-looking ads, users will be disappointed and angry," she said.
It's a given that the move will be good for Instagram's finances, but Thomas Ross wants to hear more details about the ad platform before she renders a final decision about whether this is a smart move for the company's overall brand.
For instance, "How many will be displayed in a set period of time?" she wondered. "Will there be some attempt to match ads with users' tastes or preferences? How Instagram executes this will be very telling."
Advertisers Pleased
Advertisers, no doubt, feel the same way. For some time they have been chomping to get at Instagram's masses with sponsored messages, said Chia-Lin Simmons, vice president of marketing and content at Harman International.
"It's a great opportunity for them as the audience is very engaged in the service," Simmons told the E-Commerce Times. "According to a recent report, Instagram registers consumer engagement that is 18 times more than Facebook and 48 times more than Twitter."
Brands have been taking advantage of this level of engagement, she concluded, and are now ready to step it up to the next level with advertising.