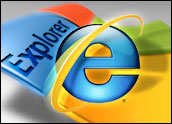 The latest installment of Net Applications' monthly survey of Web browser use chronicles an accelerating trend away from Internet Explorer in favor of "alternative" browsers such as Safari and Firefox.
All three browsers reached new milestones: IE accounted for 67.6 percent of browser users in January 2009, its lowest percentage of market share since Net Applications began following the space. Meanwhile, Firefox and Safari achieved new highs: 21.53 percent and 8.29 percent, respectively.
The Two Big S'es
At 67.6 percent, IE is obviously still the dominant vehicle for navigating the Internet. Still, it is worth examining why it continues to drop in popularity.
Simply put, security and stability are the two key reasons, Evan Keller, director of Luckie & Company told the E-Commerce Times.
"IE has gotten a really bad rap for being insecure, so many security-conscious users have shifted towards other browsers — Firefox, specifically — to get around that," he said.
Firefox has enjoyed a lot of word-of-mouth publicity for this reason, he said. "People have heard their friends and coworkers talk about how Firefox is faster or doesn't crash as much, so they've downloaded it, tried it and liked it."
At the same time, IE is often on the receiving end of negative publicity — usually for security reasons, said Sampo Kaasila, vice president of research and development at Bitstream, which just introduced theBolt mobile browser."Internet Explorer is clearly a high-quality PC browser, but it has had some well-known security issues," he told the E-Commerce Times. "Just this past December, a very widely publicized security flaw that spanned four different generations of the browser had security experts encouraging people toswitch their default browser. These experts weren't just quoted in industry journals; people were reading about this in their morning newspapers."
Firefox is also developer-friendly, Keller added. "Web developers like myself like Firefox for the plug-ins that help us figure out why a particular page is doing whatever it's doing. In addition, Firefox tends to be more standards-compliant."
Keller prefers to build a Web page to the appropriate standards and then apply any necessary IE fixes. "Using Firefox I can build the page closer to the standards and then work back from there on IE 6 and 7."
Beyond Firefox
Browsers that fall in the less-than-1-percent category are clearly no threat to IE and probably won't be for a while. However, as Web 2.0 technologies continue to proliferate — along with Web-capabledevices that aren't native to IE — chances are good that at least some of these browsers will be used in conjunction with mainstream browsers, Keller added.
Mobile technology will be fueling this trend. For instance, 80 percent of iPhone users surf the Web, while only 10 percent of non-iPhone mobile phone users do, noted Kaasila, citing an August 2008 report from comScore. "What this tells us is that if youcan deliver a good Internet experience, people will use it. The iPhone gave the general public a glimpse of what the Internet can look like from a mobile phone, and that browsing experience — which was farmore like the experience folks are used to from their PC — has users hungry for more."
There is also Google's Chrome to consider. Although its usage rate has settled in around 0.7 percent after an initial surge of downloads by the curious, the browser has a fan base that believes it will be a contender onceGoogle works out its kinks.
For starters, it is very Ajax-friendly, which makes it a natural to support SaaS (Software as a Service) applications. Indeed, soon after it was introduced, NetSuite rolled out support for Chrome.
Chrome is going to take market share from IE and Firefox sooner than people expect, said Scott Testa, a professor of marketing atSt. Joseph's University.
"I think it will be a strong No. 3 eventually," he told the E-Commerce Times.
The larger point is that the so-called "browser wars" of the '90s focused on market share, not technology — and that is now changing, according to Hidekazu Kondo, founder and CEO of Lunascape, a browser that has been downloaded 10 million times in Japan.
"To the extent that lower IE market share allows greater choice in browser technology, it is clearly a positive trend," he told the E-Commerce Times. "It should not be about one company winning orlosing, but about choice."