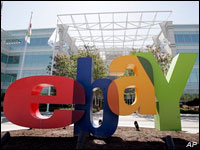 Carl Icahn's latest move in a campaign to compel eBay to sell its PayPal division is to take on its CEO John Donahoe.
The company on Monday rejected Icahn's nominees to the eBay board — employees Daniel Ninivaggi and Jonathan Christodoro — on the grounds that they were unqualified. The board urged shareholders to vote against them at its upcoming annual meeting.
Icahn responded with an open letter to shareholders in which he accused Donahoe of "inexcusable incompetence" that cost shareholders more than US$4 billion.
This broadside follows a letter Icahn released last month decrying members of eBay's board — namely, Vice Chairman Marc Andreessen and Scott Cook — for placing their interests ahead of investors.
Rehashing the 'Premature' Skype Sale
The club Icahn is using is the same in both instances: the sale of Skype to an investor group in which Andreessen once was involved. There had been discussions of eBay spinning off that unit in an initial public offering and Icahn last month accused Andreessen of ignoring his fiduciary responsibilities and pre-empting the planned IPO "to further his own interests."
The sale of Skype was premature, Icahn contended. Shareholders lost more than $4 billion, based on the price the company fetched 18 months later when it was sold to Microsoft.
Now it is Donahoe's turn on the hot seat.
"Who can doubt that if eBay were a private company, Donahoe would be fired when the facts were disclosed to the owners?" Icahn wrote. "But sadly at many of our public companies, such as eBay, there is a lack of accountability, and transgressions by management are swept under the rug by crony boards."
Icahn is not lobbing completely baseless accusations concerning the deal. In 2009, Microsoft was interested in buying Skype, as he noted, but decided against it because of concerns over technology licensing litigation between eBay and Skype's founders.
Icahn has uncovered litigation documents, he said, in which Skype's founders allege that Donahoe and Andreessen's investor group received information that there could be a workaround of the technology that was the subject of the licensing dispute between eBay and Skype's founders.
"With the apparent benefit of this information, Andreessen's investor group purchased a controlling interest in Skype from eBay for $1.9 billion," Icahn charged. Then, the Andreessen investor group settled the licensing litigation with Skype's founders and flipped Skype to Microsoft for $8.5 billion.
Donahoe's Reputation
These are serious accusations, of course, and there is a good chance Donohoe's reputation could suffer as a result, David Johnson, CEO of Strategic Vision, told the E-Commerce Times.
"It may not be taking a direct hit right now, but if someone else, someone outside of Icahn's circle, makes similar accusations it is possible Donahoe's reputation could collapse," he said.
In Donahoe's favor is the fact that Icahn doesn't have exactly a pristine reputation himself, Johnson noted. Still, "these stories tend to linger and fester."
Old News, What About Now?
The Skype deal is old news, of course, and in retrospect Skype does appear to have been undersold. What matters now is whether Icahn's tactics will lead to a spinoff of PayPal, which is his goal.
Icahn probably thinks he has the upper hand at this point, Francis Petit, associate dean for executive programs at Fordham University, told the E-Commerce Times.
eBay's revenue's increased over the past year by 13 percent, but it still fell short of its financial goals, he noted. Also, Donahoe's salary was cut from $29.7 million to about $13.8 million.
"When you look at this salary adjustment more closely, it was mostly because of a one-time award of $14.2 million in performance shares," Petit said.
"Even though the eBay board rejected Icahn's recent nominees, we should all expect additional moves by Icahn pushing for the spinoff of PayPal," he added.
Icahn is going to utilize a frontal attack in order to make this spinoff work, Petit predicted. "The damage has been done between Donahoe and Icahn, and it has been irreparable."