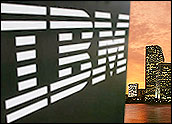 IBM has made a US$1.7 billion offer toacquire Netezza, a data warehouse specialist that allows usersto analyze huge amounts of data very quickly by integrating hardwarewith analytics applications.
Since IBM announced its offer, Netezza's stock price has risenpast the $27 per share price it reflects. That could signal a bidding war ahead.
"Storage and its related activities are very hot rightnow," said Roger Kay, principal of Endpoint TechnologiesAssociates.
3Par, acompany offering a related technology with its virtualized datastorage product line, was recently acquired by HP aftera very expensive bidding war with Dell.
Larger Narrative
Underlying the Netezza and the 3Par deals — as well as thegrowing valuations of other storage providers such as CompellentTechnologies, CommVault, Isilon and Teradata — is the virtualizationof computing assets, Kay told the E-Commerce Times.
"What is happening is that companies want to control all of theirassets at a virtualized level, and vendors are responding," he explained. "As aresult, storage has gotten blended into the enterprise products thatare now being rolled out."
Netezza's ability to procure and crunch data quickly plays into that,as it allows companies to operate with less — and more flexible — data storage space, explained David Bernard, managing director of DB Marketing Technologies.
"While powerful database systems were always needed alongsideanalytics software to perform customer analytics, the exponentialgrowth of businesses' appetite for customer insight has driven the needfor infrastructure that is optimized for analytics," Bernard told the E-Commerce Times. "Databases focused on simply the storage of data are no longer sufficient."
A hardware appliance that enables the user to optimize results forfaster analytics will fit well into IBM's analytics portfolio, JudithHurwitz of Hurwitz and Associates told the E-Commerce Times.
"Analytics is a key piece in IBM's information management area. soanything that accelerates the ability to compute analytics faster is astrategic acquisition for them," she said.
Bidding War?
The question is will IBM wind up overpaying for the company as HP didwith 3Par? IBM will be well positioned for a bidding war, should itarise, Kay said, but — to state the obvious — not overpaying isbetter than overpaying.
It has far more in short-term assets than most possible contenders,such as HP or Dell, he noted.
The market seems to be very bullish on storage assets right now, whichcould indeed lead to a bidding war, Kay remarked.
However, the fight for 3Par was in some respects non-economic in nature,though, he continued. "I had originally thought HP would sucker punchDell by bidding up 3Par and then sticking it with the higher tab."
Whether a company is willing to dosomething similar to IBM — and has the cash on hand to do it — is an open question, Kay said.
Oracle in the Mix?
Oracle is a possible contender for the asset, if only to thwartIBM's acquisition, said Rob Enderle of the Enderle Group.
With its acquisition of Netezza, IBM is effectively putting Oracle onnotice that the fight for the top spot in software-led largeenterprise data products will be contested, he told the E-CommerceTimes.
"Analytics go to the core of managing large systems and ensuring theyare both efficient and profitable. A good analytics platform candictate the software, and the software the hardware that goes aroundthe resulting solution," Enderle explained, "so it is a strong keystone to both securing andretaining large customers."