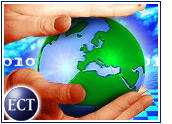 IBM has become the latest computer services giant to score a billion-dollar outsourcing deal, signing a 10-year, US$1.1 billion agreement to handle the computer infrastructure needs of Switzerland-based power-services company ABB. In the race to ink high-profile services deals, this is just the latest in a string of victories for IBM's Global Services division.
ABB said the new deal, which comes in addition to an existing $600 million contract with Big Blue, could help it save as much as $500 million over the life of the contract.
Some 1,200 employees in ABB's information technology division will become IBM workers under terms of the deal.
Strong Trend
In recent months, Dell and HP have trotted out big-time deals of their own, with HP scoring a deal with Telecom Italia worth nearly $250 million. Others have benefited from the trend as well. In March, for example, Motorola forged a $1.6 billion pact with Computer Sciences Corp. to run CSC's IT department.
Already in 2003, IBM has announced a $2 billion contract to run computers for Ford Motor Company spinoff Visteon and a $5 billion deal that called for it to take over some 4,000 employees from the IT shop at Wall Street giant J.P. Morgan.
Gartner analyst Susan Cournouyer said the outsourcing trend shows no signs of slowing.
"For every company thinking about outsourcing in a major way, there are five blue-chip techs vying for their business," she told the E-Commerce Times.
ABB's statements about cost savings no doubt are good news for tech companies that claim they can do the same work as sprawling IT departments at less cost.
Indeed, ABB chief financial officer Peter Voser said the deal "benefits both ABB and IBM."
Portal to the Future
Meanwhile, IBM also announced plans to release an updated version of its WebSphere portal software next month, saying the upgrade will offer improved Web-based collaboration across different applications and formats.
IBM said the WebSphere Version 5 upgrade, slated to become available August 21st, will enable companies to better share and manage documents, offering access controls and the ability to translate information from one application to another. It also will use IBM's Lotus software to create a so-called Collaboration Center.
Last week, Sun and Oracle said they would work together to boost users' ability to collaborate in real time with their products. Microsoft also has said its newest software releases will feature this capability.