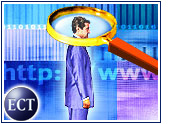 IBM has announced that the U.S. Securities and Exchange Commission is examining the way it booked revenue in 2000 and 2001, making Big Blue the latest in a growing crowd of technology companies to find itself under SEC scrutiny.
The company said it has been notified that the SEC has launched a formal investigation into "certain types of customer transactions" dating from those two years.
"IBM believes that its business and accounting policies comply with all applicable regulations and is committed to maintaining the highest standards of compliance relating to its financial reporting," the company said in a statement, adding that it will cooperate fully with the SEC's investigators.
Customer in Crosshairs
Although it did not provide further details of the investigation, IBM said it believes the inquiry arose from a separate probe into a customer of its Retail Store Solutions unit, which markets and sells point-of-sale products, such as kiosks and cash registers.
SEC spokesperson John Nester declined to comment on the status of any investigation into IBM or its customers.
The SEC has already taken a peek at Big Blue's books. Last year, the commission investigated the way IBM accounted for US$300 million worth of proceeds from the sale of a business unit to JDS Uniphase. That investigation closed without action being taken.
Shares of Armonk, New York-based IBM fell nearly 4 percent to $84.11 in early trading Tuesday after the news hit.
Impressive Track Record
IBM has managed to post a string of impressive earnings results in recent quarters despite the technology slowdown. However, Forrester analyst Mike Gilpin told the E-Commerce Times, the company's track record stems in large part from its aggressive moves to grab market share in parts of the tech economy that are still growing, such as certain software niches and the outsourcing sector.
"They've managed to turn a technology shop into a full-services hardware, software and services shop," Gilpin said. "Enterprises seem to like to be able to buy it all from a name they know has been around the block."
Under the Microscope
IBM can take comfort in knowing it has plenty of company: Many deals made at the tail end of the technology boom have come under close scrutiny.
Although SEC investigations into corporate dealings often end with settlements — for example, Amazon reached such a deal to end a probe into its dealings with Ashford.com, and Lucent recently settled an investigation as well — they also can escalate.
Probes at both AOL Time Warner and Gateway, which began as SEC inquiries, have since become criminal investigations.