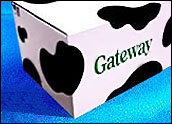 Gateway (NYSE: GTW) has announced it will take advantage of a grace period, gaining an additional two weeks to file its annual report as it continues an internal review of how it accounted for revenue in 2000 and 2001.
In a statement, the company cited two reasons for the delay: work being done in conjunction with a Securities and Exchange Commission (SEC) review that Gateway acknowledged last November, and a re-examination of revenue derived from bundling AOL's online service with new computers.
Poway, California-based Gateway said the changes to its 10-K report will not materially affect financial results, but instead will reflect only accounting changes.
Early Results
Gateway said it expects to adjust 2000 net sales to US$9.26 billion, a reduction of $340 million. However, the company also will report that the cost of goods sold dropped by the same amount.
Similarly, for 2001, Gateway likely will disclose that net sales were lower and costs higher by the same amount of about $130 million. The computer maker adjusted its contract with AOL in early 2001.
Red Flags
Morningstar.com analyst David Kathman said Gateway likely is eager to restate results and put its SEC investigation in the past as quickly as possible.
"Ever since Enron, any type of restatement gets a lot of attention, and it's not good attention," Kathman told the E-Commerce Times, though he noted that investors have become less likely to overreact to such news of late. Still, he added, "Even when it doesn't change results, it is enough to give investors reason to stop and think."
Gateway also may be eager to distance itself from ongoing investigations into AOL's own accounting of revenue. Similar motives may have convinced eBay to discontinue an ongoing ad sales deal with AOL, though eBay said in an SEC filing of its own that it made the change because of the shifting economics of online advertising.
The restatement news caused Gateway shares to slip Tuesday, even as most high-tech firms saw gains. In early trading Wednesday, Gateway shares were up two pennies to $2.25.
Waiting and Watching
Gateway investors are still sorting through a barrage of news about changes at the computer maker, which is trying to dig out from under what analysts say is a costly and complicated corporate structure. The company last month announced plans to lay off 1,900 workers and close 80 stores nationwide in a bid to regain profitability.
Often contrasted with slimmed-down direct-sales champion Dell, Gateway has made several non-PC-related moves to counter its market share losses, introducing a line of plasma televisions last fall and more recently saying it will try to sell digital projectors for mid-size corporations and educational institutions.
Eye on the True Goal
But IDC analyst Roger Kay told the E-Commerce Times that Gateway has to keep an eye on two different targets as it tries to regain its footing — and neither of them is the undercurrent of SEC inquiries and accounting issues, which he noted many companies have been forced to deal with, including some dominant players and high-profile brands in various fields.
"What Gateway needs is to get back in the profit column to be viable as a player long-term, obviously," Kay said. "But it needs to re-establish the value proposition with consumers in order to get there."
Gateway recently launched an effort to offer consumers what it calls "one-click" prices, aimed at reducing the surprise buyers sometimes get when they try to buy a computer for an advertised price, only to find it includes few of the necessary peripherals. "Gateway has to remind people why they chose to buy from the company in such great numbers back in the late 1990s," Kay said.