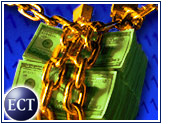 Taking aim at a cost structure that analysts say has been a millstone in the brutally competitive market for PCs, Gateway has announced plans to lay off 1,900 workers and close 80 of its retail stores.
The company said the 17 percent workforce reduction and the store closings will produce cost savings of about US$200 million per year going forward. In addition, Gateway noted, it can shave another $200 million in costs with targeted savings in warranties and computer parts. The company will be left with about 9,300 employees after the cuts.
The moves came as Gateway said its current quarter is falling far short of the expected pace, with sales now forecast to range between $820 million and $850 million, well below analysts' consensus estimate of $955 million.
Cutting Deep
"We're taking the tough but necessary steps to continue our transformation and get back to healthy growth," Gateway chairman and CEO Ted Waitt said in a conference call. "These things are never easy, but it's the right thing to do."
Although the moves will cost up to $80 million to implement, including up to $45 million in cash, Waitt said they also will help Gateway return to positive cash flow by year's end and will leave the company with a stockpile of about $1 billion in cash.
Gateway shares, which tumbled to a yearly low of just over $2 in recent weeks, fell slightly in early trading Tuesday to $2.22.
Imitation Equals Flattery
IDC analyst Roger Kay told the E-Commerce Times that Gateway is trying to undo some of its missteps, including plunging into retail, a move that has heightened the contrast between Gateway and Dell, which has maintained its direct sales model and reaped the benefits of that decision.
"They need to tap the enterprise market much more deeply," Kay said. "Even if that market grows slowly, Dell has shown how to make it work, thanks to the margins and the extra revenue that can be generated with services."
That opportunity is not lost on Gateway, which said it will make beefing up business sales a key focus going forward. "The goal is to transform our business from a PC company to a complete technology integrator," Waitt said. "A lot of our actions will be aimed at truly differentiating ourselves in the marketplace. We have to stand out."
Gateway said it will relaunch its server and storage lines, hoping to achieve new visibility in the process, and will invest "prudently" in new business-focused initiatives. The company's business sales force will be expanded. Waitt declined to give specifics but said an announcement is possible soon and new product rollouts will focus on notebooks, tablet PCs and other mobile devices.
Store Exits
Four of Gateway's retail stores already have been shuttered, and another 76 will close March 24th. The remaining stores will be reconfigured to shift attention to digital electronics and high-end computers that play digital media. Other stores will be moved to new locations.
Gateway also will focus more on high-margin consumer sales, emphasizing PCs with all the bells and whistles over low-cost, low-end machines and continuing to put resources into its consumer electronics business. That effort has already started to pay off, Waitt said, with gross margins increasing several percentage points in March.
Last year, Gateway rolled out the first of its plasma TVs and said it would continue to introduce products for consumers interested in high-end electronics.