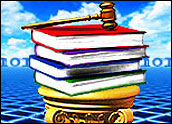 Lucent Technologies has cleared what could have been a major obstacle to its ongoing turnaround. The telecommunications equipment maker has reached a settlement to close the books on a probe into its accounting practices by the U.S. Securities and Exchange Commission (SEC).
Lucent said the settlement, which requires a vote of the full commission to become final, will not require it to pay penalties or restate any past financial reports.
The inquiry stemmed from Lucent's voluntary disclosure in late 2000 that it had discovered irregularities in how some revenue had been recognized. The discovery involved US$679 million worth of questionable sales.
No Admission
Lucent was one of many technology companies that drew the scrutiny of the SEC and other federal agencies as the dust began to settle after the dot-com bubble burst. Probes continue into accounting and possible fraud at other telecom companies, such as WorldCom and Global Crossing, and such Internet companies as AOL, Amazon.com and Homestore.com all have faced SEC inquiries of their own.
Lucent said that although the settlement does not require it to admit wrongdoing, it will agree to avoid future violations of SEC regulations by installing more stringent internal controls.
Patricia Russo, who took over last year as CEO at Lucent, noted that unlike other tech firms that are the focus of probes, Lucent "self-reported certain revenue recognition issues … as soon as we discovered them."
"We are very pleased to be able to put this issue behind us in this manner and totally focus on moving our business forward," Russo said.
Looking Lean
The probe was not the only cloud looming above Lucent, which has been trying to drastically alter its business in a bid for long-term survival. As it wrote off investments and spun off assets accumulated in the late 1990s, Lucent posted a $12 billion loss last year and slashed some 22,000 jobs from its payroll.
Now half as large as it was in 1998, the company is said to be eyeing a return to profitability after nearly three straight years of fiscal losses.
Test of Time
Meta Group analyst David Wills told the E-Commerce Times that Lucent will need time to prove that it has significantly restructured its business, which grew wildly during the 1990s.
"The test will be if they kept enough of their key parts to make them players going forward," Wills said. "They've gotten their hands around the financial aspect of getting back on track. Now it will be whether they can win enough customers with their gear."
The company still must clear more legal hurdles. The U.S. Department of Justice reportedly is probing a software licensing deal with Winstar, and a shareholder lawsuit is pending as well.
Lucent shares were up slightly in early trading Friday to US$1.64.