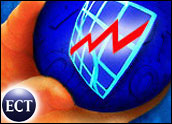 IBM met Wall Street forecasts today when the company announced that it has shown first-quarter profits of 16 percent. The company earned US$1.6 billion in the first three months of 2004, in comparison to the $1.38 billion it earned in the same time period last year.
Market analysts have pointed to a number of factors for Big Blue's first-quarter results, including increased tech spending in the corporate market, a weakened U.S. dollar and several positive strategy moves by IBM over the past few years.
Yankee Group analyst Andy Efstathiou told the E-Commerce Times that it was not surprising to see IBM showing growth. "The company is in a very good position because they've gotten their act together," he said. "They've been getting it together for some time. And now it looks like the market is bearing that out."
Difficult Adjustments
Although the first-quarter profit seems like a boost for IBM, when adjustment is made for the weak U.S. dollar, the revenue rise is less than it appears.
"Currency is a concern," said Rod Bare, analyst at Morningstar. He told the E-Commerce Times that IBM's overall revenue rise would have been only about 3 percent without currency fluctuations.
He noted that this is a concern because in the past IBM has shown quarterly growth of approximately 11 percent on a regular basis. However, if the overall economy gets stronger and the dollar gets some of its muscle back, it would put many companies, including IBM, back into a better position.
"If the dollar gets better, which would include more corporate spending, then we would revert back to the mean," Bare said. "That would create a headwind as far as reporting goes."
Slow & Steady
Despite the lower revenue shown with currency adjustment, Bare still believes that IBM is on track for future growth.
"They seem fine, so I'm not changing my view," he said. "Toward the end of the year, there was a resurgence in spending, when corporate budgets where flush, and people thought the market would take off from there. It hasn't, but that doesn't mean there won't be growth."
IBM has also expressed optimism about its prospect for the year ahead. In the release of its revenue results, company chairman Sam Palmisano said that many competitors are struggling with changing dynamics in the IT industry, whereas IBM is not.
"[W]e made significant investments and repositioned IBM during the downturn," he stated. "Those strategic moves are beginning to pay off for our clients and shareholders."
During the past few years, IBM has made a number of strategic moves, including focusing more heavily on utility computing and acquisition of middleware firms.
A deeper commitment to services has also served the company well. Revenues from Global Services increased 9 percent to $11.1 billion in the first quarter, and the company signed services contracts totaling more than $10 billion in the first three months of the year.
Bright Horizon
The direction that IBM is taking is one that promises future growth, Efstathiou believes. He noted that the company has grabbed significant market share in terms of outsourcing its services.
If the company can also deliver effectively on utility computing, it should show even better revenue results in the years ahead.
"IBM has been criticized for its utility computing, with people saying that it's all vision and no reality," Efstathiou said. "That's true, but if they can manage to convert that vision to reality, it would be a very compelling value proposition."
Another challenge facing IBM in the year ahead is keeping the company working as a cohesive whole, according to Efstathiou.
"They have to maintain unity of purpose within the organization," he said. "For the most part, large services firms tend to balkanize and dissipate. IBM isn't doing that, and if it continues to succeed in staying together, it will be leading the way for the whole industry."